HOROSCOPE
THE TRIBUNE MAGAZINES
On alternate Mondays

On Sundays
On Saturdays
IN PASSING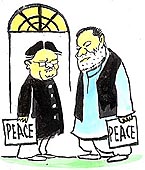 This is called peace on war footing!
by Sandeep Joshi
J&K page
Peace process to be time-consuming: Mufti

Peace moves worry hawks

J&K to get 265.5 cr for security





One of the persons injured in an explosion at Doda being shifted to Jammu Medical College Hospital. — Photo Sarabjit Singh
Book VHP leaders under POTA, demands Opposition
New Delhi, May 5
The issue of the Vishwa Hindu Parishad (VHP) leader Praveen Togadia distributing trishuls during rallies came up for discussion in the Rajya Sabha today with the Congress-led Opposition demanding the imposition of Prevention of Terrorist Act (POTA) against the party leaders.
Editorial: Friendly fire
Notices to backdoor appointees
Jammu, May 5
The Jammu and Kashmir High Court has issued notices to 129 government servants for allegedly getting back-door appointments by the previous National Conference government.
Women's Bill to be introduced in Parliament today
New Delhi, May 5
The Women's Reservation Bill will be re-introduced by the government tomorrow in the Lok Sabha in its original form, BJP spokesman V.K. Malhotra said here today. Mr Malhotra said the Congress and the CPM had also wanted the Bill to be brought in its original form and had in a letter to Prime Minister Atal Bihari Vajpayee expressed support to it.
TRIBUNE SPECIAL
Mafia grabs prime land
Amritsar, May 5
Land measuring 7.5 acres, purchased in the name of the Punjab Governor from the Jammu and Kashmir Government for the expansion of the local Senior Secondary School, Dam Ganj, in 1977, stand encroached upon by a land mafia in connivance with officials of the Municipal Corporation who enjoy political patronage.
PM names LCA as 'Tejas'
May 5, 2003

Pak PM Jamali invites Vajpayee
May 4, 2003

India renews peace initiative
May 3, 2003

RSS cautions govt on talks with Pak
May 2, 2003

FM rules out VAT from June 1
May 1, 2003

PM raises terrorism issue with Jamali
April 30, 2003
A-I charge-sheets 12 pilots
April 29, 2003
Mayawati meets PM over cane price
April 28, 2003
Ultras attack Radio Kashmir complex
April 27, 2003
Day of terror in Kashmir
April 26, 2003
21 crore relief for Uphaar victims
April 25, 2003