HOROSCOPE
THE TRIBUNE MAGAZINES
On alternate Mondays

On Sundays
On Saturdays
IN PASSING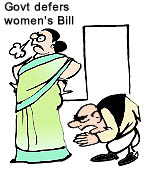 Believe me, I never opposed the women's Bill.

by Sandeep Joshi
Higher scales for Punjab judges
Chandigarh, May 6
The Punjab Government has decided to award higher pay scales to the judicial officers. A notification in this regard will be issued soon, sources said today.
Ruckus in RS over attack on Sikdar
Advani reprimands Bengal CM
New Delhi, May 6
The Rajya Sabha was today adjourned for 15 minutes during the Zero Hour following pandemonium over the attack on Union Minister Tapan Sikdar allegedly by CPM activists in West Bengal.
Sikh bodies oppose seva by women
Amritsar, May 6
Even as a five-member committee constituted by the SGPC will meet on May 8 to take a decision on the issue of gender discrimination, the SGPC has succeeded in procuring the consent of many Sikh organisations that baptised women should not be allowed to perform seva inside the sanctum sanctorum of the Golden Temple as per age-old traditions.
9 ultras shot in J-K, 8 houses set afire
Srinagar, May 6
Ten persons, including nine militants, were killed and 15 others wounded even as security forces busted two hide-outs and arrested three militants in Jammu and Kashmir during the past 24 hours.


Hope for cross-border marriages
Qadian, May 6
Maqbool Ahmad (33), reporter of a national Hindi daily here, was engaged to be married with Tahira, a Pakistani national and resident of Faislabad in April 2001. He was waiting for the day of marriage was unhappy when rail, bus and air links with Pakistan were stopped after attack on Indian Parliament.


The boundary grill at the Attari railway station gets a fresh coat of paint in Amritsar on Tuesday.
— PTI photo

Jamali confers with parties
May 6, 2003

PM names LCA as 'Tejas'
May 5, 2003

Pak PM Jamali invites Vajpayee
May 4, 2003

India renews peace initiative
May 3, 2003

RSS cautions govt on talks with Pak
May 2, 2003

FM rules out VAT from June 1
May 1, 2003

PM raises terrorism issue with Jamali
April 30, 2003
A-I charge-sheets 12 pilots
April 29, 2003
Mayawati meets PM over cane price
April 28, 2003
Ultras attack Radio Kashmir complex
April 27, 2003