HOROSCOPE
THE TRIBUNE MAGAZINES
On alternate Mondays

On Sundays
On Saturdays
IN PASSING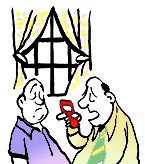 Short-distance call 4 min, 1 min free airtime, roaming included, short pulse, how much was my bill?

by Sandeep Joshi
20 dead in J&K despite peace moves
Srinagar, May 7
Even though India and Pakistan have announced peace initiatives, stepped-up violence has claimed 20 lives in Jammu and Kashmir during the past 24 hours.
SC denies bail to Ravi Sidhu
New Delhi, May 7


The Supreme Court today denied bail to former Punjab Public Service Commission Chairman Ravinder Pal Singh Sidhu in one of the several corruption cases registered against him in connection with the job-for-money scam.
24 massacred in Tripura
Agartala, May 7
Twentyfour persons were killed and nine injured in a spate of violence in Tripura since last night and 19 of them died in a single attack, the police said.
Panel on children welfare soon
New Delhi, May 7
A National Commission for Children will be shortly set up and the Cabinet has already given its approval to it, Human Resource Development Minister Murli Manohar Joshi announced in the Rajya Sabha today.


Punjab page: MLA shines shoes to fund road repair

Punjab BJP chief Brij Lal Rinwa, gets his shoes shined by his party MLA Avinash Rai Khanna, raising funds from donations for the repair of the Garhshankar- Hoshiarpur road in Garhshankar on Wednesday.
— Tribune photo Karam Singh


50,000 Pak nationals 'missing' in India
Had travelled by Samjhauta Express
Amritsar, May 7
Thousands of Pakistani nationals who entered India by the Samjhauta Express in the last decade have been missing posing a security risk. In 2000 alone more than 8,000 Pakistanis did not go back to their country creating a problem for intelligence and security agencies.
Brajesh meets Armitage on way to USA
May 7, 2003

Jamali confers with parties
May 6, 2003

PM names LCA as 'Tejas'
May 5, 2003

Pak PM Jamali invites Vajpayee
May 4, 2003

India renews peace initiative
May 3, 2003

RSS cautions govt on talks with Pak
May 2, 2003

FM rules out VAT from June 1
May 1, 2003

PM raises terrorism issue with Jamali
April 30, 2003
A-I charge-sheets 12 pilots
April 29, 2003
Mayawati meets PM over cane price
April 28, 2003