THE TRIBUNE MAGAZINES
On alternate Mondays

On Sundays
On Saturdays
IN PASSING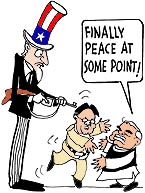 by Sandeep Joshi
POSTINGS/TRANSFERS
Mukul Joshi gets back Excise
18 senior IAS officers shuffled
Chandigarh, May 8
In less than a month of his indictment in the Panchkula episode, Mr Mukul Joshi was redesignated as Financial Commissioner, Taxation (FCT) as the Punjab Government ordered the transfer and posting of 18 IAS officers in the first administrative reshuffle after Mr Rajan Kashyap took over as Chief Secretary.
GSLV places satellite in orbit

In Graphic: GSLV-D2 launch successful
Election of Safidon MLA set aside
Chandigarh, May 8
In just over three years after ruling Indian National Lok Dal candidate Ram Phal Kundu was declared elected from the Safidon Assembly Constituency, Mr Justice Viney Mittal of the Punjab and Haryana High Court today ordered the setting aside of his elections.
Verma sworn in Punjab Governor
Chandigarh, May 8
Justice Om Prakash Verma was today sworn in as the Governor of Punjab and the Administrator of the Union Territory of Chandigarh. He is the 30th Governor of Punjab since Independence. He succeeds Lieut-Gen J.F.R. Jacob (retd), who demitted office, in the forenoon.
Kokje is HP's 21st Governor
Shimla, May 8
Justice Vishnu Sadashiv Kokje was sworn in as the Governor of Himachal Pradesh at a simple but impressive ceremony at Raj Bhavan, here today. The Chief Justice, of Himachal High Court Mr Justice Vinod Kumar Gupta, administered the oath of office and secrecy.

Bathinda refinery: House panel flays govt move
New Delhi, May 8
A Parliamentary Standing Committee today decried the government's intentions to decouple Bathinda and Bina refineries from the HPCL and the BPCL. The committee, headed by Mr Mulayam Singh Yadav, which submitted its report in the Lok Sabha, observed that the government had not taken the final decision on the execution of the Bathinda and Bina refineries projects and was awaiting the outcome of the disinvestment of the HPCL and the BPCL.
Menon's name as envoy sent
May 8, 2003

Brajesh meets Armitage on way to USA
May 7, 2003

Jamali confers with parties
May 6, 2003

PM names LCA as 'Tejas'
May 5, 2003

Pak PM Jamali invites Vajpayee
May 4, 2003

India renews peace initiative
May 3, 2003

RSS cautions govt on talks with Pak
May 2, 2003

FM rules out VAT from June 1
May 1, 2003

PM raises terrorism issue with Jamali
April 30, 2003
A-I charge-sheets 12 pilots
April 29, 2003
Mayawati meets PM over cane price
April 28, 2003