HOROSCOPE
THE TRIBUNE MAGAZINES
On alternate Mondays

On Sundays
On Saturdays
IN PASSING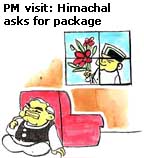 ... and I thought this was a holiday package!
by Sandeep Joshi
Defence Minister George Fernandes says infiltration has come down in the past few days. (28k, 56k)


Pak ready to resume trade ties

Edit page: Towards 'composite dialogue'
Pak to release 300 Indian prisoners
Islamabad, May 13
As a part of its confidence building measures, Pakistan has decided to release nearly 300 Indian prisoners, held in various jails in the country, official sources here said today.
---
US roadmap points to peace in valley
New Delhi, May 13
The Bush administration is working on a roadmap for resolving the protracted Kashmir problem by 2005 and joint Indo-Pak patrolling of the Line of Control in 2004. The US Embassy in Pakistan has prepared a mission and goal paper detailing the strategy required for promoting peace in South Asia, it is learnt.

---
Poetess' killers identified
Lucknow, May 13
The police today claimed to have identified the killers of poetess Madhumita Shukla, whose murder at her residence last Friday had created a storm in the state's political circles.
Samra's hospital found locked
CBI sounds red alert for Bhardwaj


Jalandhar, May 13
The teams deputed by the Punjab Health Department authorities to inspect the Kartarpur-based Guru Teg Bahadur Hospital owned by Dr Gurvinder Singh Samra, who is facing 13 different cases and on whose complaint the CBI has booked two judicial officials, today returned empty handed after finding the hospital locked.


Centre agrees to amend Article 356
Differs with states on deployment of forces
New Delhi, May 13
In a major decision the Centre today agreed in principle with the states to amend Article 356 of the Constitution pertaining to imposition of President's rule in a state to incorporate safeguards to prevent its misuse.
Mufti for 'softening' of LoC
May 13, 2003

13 die in Bengal poll violence
May 12, 2003

Terror must end, India tells US
May 11, 2003

India differs with Armitage
May 10, 2003

Vajpayee rules out denuclearisation
May 9, 2003

Menon's name as envoy sent
May 8, 2003

Brajesh meets Armitage on way to USA
May 7, 2003

Jamali confers with parties
May 6, 2003

PM names LCA as 'Tejas'
May 5, 2003

Pak PM Jamali invites Vajpayee
May 4, 2003