M A I N N E W S
Protests over privatisation of water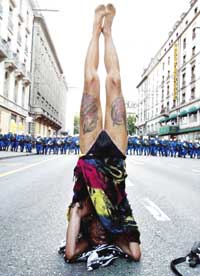 An anti-globalisation protester performs in front of the Swiss riot police as hundreds of anti-G8 demonstrators are cordoned off on Geneva's main bridge, in a tense standoff on Monday. — AP/PTI photo
Geneva, June 3
The police fired rubber bullets and water cannon at rock-throwing demonstrators in Geneva as protests against the summit of world leaders turned violent for the third successive night.
A crowd, several thousand strong, gathered around a central city bridge where demonstrators were staging a sit-down protest at the arrests of some two dozen of their number.
The police, wearing full riot gear, moved in to end the action, using water jets and tear gas, but it came under attack.
There were a number of arrests as the clashes continued into the early hours today around the centre of the city, the self-proclaimed humanitarian capital of the world for its concentration of relief agencies but also home to some of the globe's richest private banks and plushest stores.

"The fighting is going on...in the centre," said police spokesman Jacques Volery, adding that one policeman and several demonstrators had been injured.
With demonstrators prevented from reaching the site of the June 1-3 summit of the Group of Eight leading industrial countries over the border in Evian, France, the protests have focused on Geneva, with the neighbouring Swiss city of Lausanne also seeing violent incidents over the weekend.
Some 200 protesters demonstrated peacefully outside the WTO earlier yesterday demanding a halt to rich countries' calls for developing states to allow their mainly state-controlled service industries, including water, to be privatised. "Water is not for sale," said one banner draped across the gates of a building.
Meanwhile, Geneva began a clean-up after three nights of violence that left shops and offices wrecked and saw foreign police brought in to help keep order for the first time.
Long-time residents said the scenes of the police moving against anti-G8 demonstrators yesterday night and rampaging masked youths smashing up buildings and setting fires over the previous two nights were the worst in decades. Reuters