HOROSCOPE
THE TRIBUNE MAGAZINES
On alternate Mondays

On Sundays
On Saturdays
IN PASSING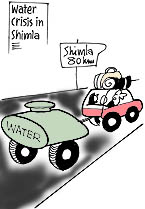 Don't worry about the luggage. We have enough water.

by Sandeep Joshi
Editorial: Shame of '84

Punjab page: Govt forms panel
No Nanakshahi holidays in Punjab
Chandigarh, June 3
The Punjab Government today formally rejected the Nanakshahi Calendar. It refused the SGPC's request to order holidays as per this calendar.
4 more RLD MLAs from UP reach J&K
Srinagar, June 3
Another four Rashtriya Lok Dal MLAs from Uttar Pradesh arrived here today to join their nine colleagues, already here, to foil "poaching" by the BSP BJP government following withdrawal of their party's support to the Mayawati government.

Start talks with Pok: PM tells Pak
New Delhi, June 3
The Prime Minister, Mr Atal Bihari Vajpayee, said tonight that if talks were to resume with Pakistan on the Kashmir issue, it had to be on the one-third portion of Kashmir which was under Pakistani occupation.

G-8 pledges to rebuild Iraq
Evian, June 3
World leaders today closed out an annual summit by pledging to rebuild Iraq and combat the threat of nuclear weapons in Iran and North Korea.

Protests over privatisation of water

Medha Patkar's condition worsens
Nasik, June 3
The condition of NBA leader Medha Patkar today deteriorated on the fifth day of her indefinite fast demanding the rehabilitation of people affected by Sardar Sarovar Project before monsoon.


Badal to consult aides today
Meeting clergy tomorrow
Amritsar, June 3
Mr Parkash Singh Badal, president of the Shiromani Akali Dal, would hold in-camera meeting with his close aides, including members of the Shiromani Gurdwara Parbandhak Committee and Sikh scholars here tomorrow, ahead of his June 5 meeting with the Sikh clergy.

World leaders support India on terrorism
June 3, 2003

Bush agrees with PM's peace terms
June 2, 2003

Ties with India tops China agenda
June 1, 2003


Govt vacillating on Pak: Sonia
May 31, 2003


Vajpayee flays West's doublespeak
May 30, 2003

Atal rejects fresh decision on Kashmir
May 29, 2003

Jamali will hold talks with Vajpayee: Pervez
May 28, 2003

India sets rider for troops to Iraq
May 27, 2003

BJP moots job quota for upper caste poor
May 26, 2003

3 new Cabinet ministers sworn in
May 25, 2003

Ramachandran, Ajit Singh quit Cabinet
May 24, 2003