THE TRIBUNE MAGAZINES
On alternate Mondays

On Sundays
On Saturdays
IN PASSING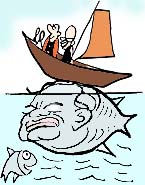 I wonder why they don't know who the leader is?
by Sandeep Joshi
Punjab page: SAD chief apprehends arrest
Police fires into air
Jalandhar, June 7
While the district police has arrested about 20  youngsters for having created trouble in the Buta Mandi and other places and it resorted to firing in the air to disperse mobs in Chuggitti and Guru Nanak Pura area, the city observed an almost complete bandh today in response to a call given by the Dalit Action Committee.


BJP team to visit Jalandhar

SGPC sets up probe panel

Scribes alleges manhandling
Bakery case: 9 more witnesses turn hostile
Vadodara, June 7
In a jolt to the prosecution, nine more witnesses in the Best bakery case, in which 12 persons were burnt alive in the aftermath of last year's Godhra carnage, today turned hostile at a fast track court here.
Heatwave persists, toll 1,425
New Delhi/Chandigarh, June 7
Increased humidity, dust haze and hot winds added to woes of the people reeling under an oppressive heatwave in most regions even as 46 more persons succumbed to soaring temperatures pushing the countrywide death toll to 1,425.


Punjab page: Heatwave claims 2 lives

Haryana page: Heatwave hits cotton crop
Fodder scam: Cong MP chargesheeted


Factionalism mars Kaithal rally
Kaithal, June 7
Leader of the Opposition Bhupinder Singh Hooda's speech at a rally here today was interrupted by supporters of Mr Birender Singh who were apparently irked by the loud cheering Mr Hooda was receiving from his supporters.

Mr Bhupinder Singh Hooda, Mr Birender Singh, Mr Natwar Singh, Mr Jai Parkash and Mr Anand Singh Dangi join hands at a rally in Kaithal on Saturday.
— Tribune photo Manoj Mahajan
Talhan, Jalandhar remain tense
June 7, 2003

12 hurt in Jat-Dalit clash
June 6, 2003

88 more die of heatwave
June 5, 2003

Pilot dies in MiG-21 crash
June 4, 2003

World leaders support India on terrorism
June 3, 2003

Bush agrees with PM's peace terms
June 2, 2003

Ties with India tops China agenda
June 1, 2003


Govt vacillating on Pak: Sonia
May 31, 2003


Vajpayee flays West's doublespeak
May 30, 2003

Atal rejects fresh decision on Kashmir
May 29, 2003

Jamali will hold talks with Vajpayee: Pervez
May 28, 2003

India sets rider for troops to Iraq
May 27, 2003