In Education Tribune today
HOROSCOPE
THE TRIBUNE MAGAZINES
On alternate Mondays

On Sundays
On Saturdays
IN PASSING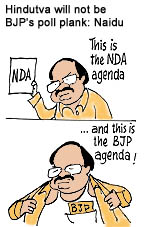 by Sandeep Joshi
Ivanov backs India on terrorism
New Delhi, June 16
Russia today came out strongly against cross-border terrorism from Pakistan, saying that Moscow would go by "real actions and deeds" and not base its assessments on Islamabad statements.

In video (28k, 56k)


Naval chief leaves for Moscow
Oppn against sending troops to Iraq
New Delhi, June 16
Even as a high-level Pentagon team today urged India to send its troops for the proposed "stabilisation force" in Iraq, opposition to the proposed move grew here further.


Team members from the Pentagon board their car after a meeting with External Affairs officials at South Block in New Delhi on Monday. — PTI photo
In video (28k, 56k)
Govt appeasing Muslims: VHP
New Delhi, June 16
The Vishwa Hindu Parishad (VHP) today accused Prime Minister Atal Bihari Vajpayee, Deputy Prime Minister L.K. Advani and the BJP of compromising with their stand on the Ram Temple issue and bargaining with Muslims to return to power after the next General Election.
No consensus on Women's Bill yet again
New Delhi, June 16
The hopes of arriving at a consensus on women's reservation in the Lok Sabha and state Assemblies dashed yet again today at an all-party meeting convened here by the Lok Sabha Speaker, Mr Manohar Joshi.

Sunil Dutt on peace mission
Talhan (Jalandhar), June 16
Terming the Dalit-Jat clashes at this village as an "unfortunate and unprecedented phenomena" in Punjab, actor Sunil Dutt today said he got "extremely tormented" to see Punjabis fighting each other. Sunil Dutt said he had seen the partition of the country and riots in Godhra, but, what had disturbed him the most was the sectarian clashes in Punjab.


Edit page: Why Talhan happened

Punjab page: All Dalit, Jat leaders released

PM for consensus on sending troops to Iraq
June 16, 2003

Pak intent non-peaceful: MEA
June 15, 2003

Activists vacate Talhan shrine
June 14, 2003

Pak epicentre of terror: Advani
June 13, 2003

2 'skeletons' found, team begins probe
June 12, 2003

Pak yet to respond: Advani
June 11, 2003

SC refuses to intervene
June 10, 2003

Cops descend on Talhan
June 9, 2003

Mosque demolished at Advani's instance: accused
June 8, 2003

Talhan, Jalandhar remain tense
June 7, 2003