AGRICULTURE
EDUCATION
HEALTH
SCIENCE
CAREER GUIDE
SPORTS
HER WORLD
TRIBUNE CLASSIFIEDS
Ram temple not poll issue, says Venkaiah
Mumbai, June 20


The BJP today said it favoured holding of the Lok Sabha polls "as per schedule" and going along with the NDA allies even as it sought to play soft Hindutva demanding a ban on cow slaughter and asking the Centre to exert pressure on states to pass anti-conversion laws.
Kalyan blames PM, Advani for demolition

Nation page: RSS does not consider anyone as Atal's successor: Sudarshan

NDA leaders to meet today

Editorial: BJP's Mission-2004
Pentagon denies deal on F-16s
Washington, June 20
The Pentagon has denied reports that the US plans to release to Pakistan advanced versions of F-16 fighter jets that were sold in late 1980s but never delivered because of Islamabad's nuclear arms programme.
Lahore bus: India, Pak to settle accounts

World page: Indo-Pak cyber war intensifies
HOROSCOPE
THE TRIBUNE MAGAZINES
On alternate Mondays

On Sundays
On Saturdays
IN PASSING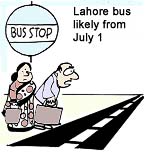 I hope my local bus comes earlier.
by Sandeep Joshi
Rains claim life in Mumbai
Mumbai, June 20
A girl was killed in a landslide as heavy rains lashed the city for the second consecutive day today, inundating the low lying areas and partially disrupting the rail and road traffic.

A local train makes its way along flooded tracks near Mumbai central station on Friday. The city has been having monsoon rain for the past four days. — AFP photo

Vedanti to lose job as Golden Temple Granthi
Amritsar, June 20
As per a directive of the Sikh Gurdwara Judicial Commission, a meeting of the SGPC executive, held at Anandpur Sahib today, decided to sack all employees above the age of 60 years.
Govt to use law against broadcasters
New Delhi, June 20
The government today said it would use legal powers against broadcasters and multi service operators (MSOs) to lower the tariff package to existing rates while executing the conditional access system (CAS) from July 15.
Ludhiana boy bags ninth position in IIT exam
Chandigarh, June 20
Coaching has become an irreplaceable tool while preparing for the majority of competitive examinations, particularly in the medical and non-medical streams after plus two classes.


Chandigarh Tribune: Red-letter day for city students


Parents of Ankit Jain (centre) rejoice at the success of their son, who stood 9th in the IIT-JEE, at their residence in Ludhiana on Friday.
— Tribune photo Pradeep Tewari.
Siddiqui to be next police chief
Chandigarh, June 20
Punjab will have three more Directors-General of Police (DGPs), one Additional DGP (ADGP) and three Inspectors-General (IGs) as the state government ordered the much-awaited reshuffle in the Police Department, naming formally Mr A.A. Siddiqui as the next police chief.
In Sports Tribune today
BJP for LS poll on schedule
June 20, 2003
India blocks Pakistan's entry into ARF
June 19, 2003
Advani debunks Pak claim on terrorism
June 18, 2003
Musharraf backtracks on Kargil, talks peace
June 17, 2003

PM for consensus on sending troops to Iraq
June 16, 2003

Pak intent non-peaceful: MEA
June 15, 2003

Activists vacate Talhan shrine
June 14, 2003

Pak epicentre of terror: Advani
June 13, 2003

2 'skeletons' found, team begins probe
June 12, 2003

Pak yet to respond: Advani
June 11, 2003