AGRICULTURE
EDUCATION
HEALTH
SCIENCE
CAREER GUIDE
SPORTS
HER WORLD
TRIBUNE CLASSIFIEDS
Prime Minister A.B. Vajpayee toasts with his Chinese counterpart Wen Jiabao after the signing-of-
agreements ceremony at Great Hall of the People in Beijing on Monday. Also seen in the picture is External Affairs Minister Yashwant Sinha.
— PTI photo Subhash Malhotra
Don't mislead China: Pak
Islamabad, June 23
Appearing concerned over the likely impact of Prime Minister Atal Bihari Vajpayee's current visit to Beijing, Pakistan today accused the Indian leadership of attempting to "mislead" China with "chants of cross-border terrorism" and expressed hope that China would persuade New Delhi to start talks with Islamabad.
| | |
| --- | --- |
| | PUNJAB: Who is Kanwal Sidhu? |
In Education today
HOROSCOPE
THE TRIBUNE MAGAZINES
On alternate Mondays

On Sundays
On Saturdays
---
34 perish in rail tunnel mishap
Landslides caused derailment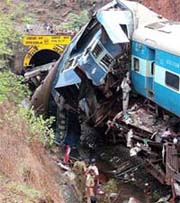 Mumbai, June 23
At least 34 persons were killed and 25 others injured, 15 seriously, when four bogies of the Karwar-Mumbai holiday special train derailed, following a landslide on tracks in Sindhudurg district of Maharashtra late yesterday.


Rescue workers gather at the site of the derailed train near Kankavali, 576 km south of Mumbai, on Monday. — Reuters photo


PM condoles deaths

Editorial: Another rail accident

Nation page: Mishaps stalk rail passengers
---

Carrot-and-stick diplomacy awaits Pervez
New Delhi, June 23
The Pakistan President, Gen Pervez Musharraf, is expected to get a taste of American carrot-and-stick diplomacy when he becomes the first South Asian leader to meet the President of the USA, Mr George W. Bush, at the Presidential retreat of Camp David tomorrow.

2 killed in Shopian blast
Srinagar, June 23
Two persons were killed and 48 injured, nine of them seriously, when a powerful grenade explosion rocked Shopian of Pulwama district in Jammu and Kashmir today, official sources said.



Wooing voters with liquor, poppy husk
Majitha (Amritsar), June 23
Even as the election scene hots up after the withdrawal of papers illicit liquor is being distilled openly in border villages of the district to woo the voters in the panchayat elections, slated for June 29.
Talhan poll put off
Talhan curfew


The police takes preventive measures and collects "arms" from villagers prior to the panchayat elections in Klair village of Amritsar on Monday. — Photo Rajiv Sharma
PM's China visit to improve ties
June 23, 2003
Muslim board to seek Kalyan's examination
June 22, 2003
Muslim board receives Kanchi seer's proposal
June 21, 2003
BJP for LS poll on schedule
June 20, 2003
India blocks Pakistan's entry into ARF
June 19, 2003
Advani debunks Pak claim on terrorism
June 18, 2003
Musharraf backtracks on Kargil, talks peace
June 17, 2003

PM for consensus on sending troops to Iraq
June 16, 2003

Pak intent non-peaceful: MEA
June 15, 2003

Activists vacate Talhan shrine
June 14, 2003