AGRICULTURE
EDUCATION
HEALTH
SCIENCE & TECHNOLOGY
CAREER GUIDE
SPORTS
HER WORLD
TRIBUNE CLASSIFIEDS
HOROSCOPE


In video (28k, 56k)

Prime Minister Atal Bihari Vajpayee has a word with BJP President Venkaiah Naidu at the BJP National Executive Committee meeting in Raipur on Friday. — PTI photo
CBI plea on Monica's extradition rejected


New Delhi, July 18
In a major setback to the CBI, a Portuguese court has turned down India's request for the extradition of underworld don Abu Salem's girl friend Monica Bedi.
Now Pak boy heads for Apollo
Wagha, July 18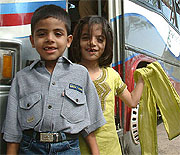 Six-year-old Pakistani boy, Afnan bin Iqbal, suffering from a head injury may get a fresh lease of life as doctors in Karachi have referred him to Apollo Hospital in New Delhi. Talking to The Tribune, Iqbal's mother said the resumption of the Delhi-Lahore bus service had turned out to be a boon for Pakistanis.
Afnan Iqbal (six) along with his sister Faqia alighting from the Lahore-Delhi bus at Wagah joint check post on Friday. Afnan has come with his mother (not in picture) for treatment of a head injury. — Tribune photo Rajiv Sharma


Noor taken off ventilator
In Sports Tribune today
THE TRIBUNE MAGAZINES
On alternate Mondays

On Sundays
On Saturdays
Rare surgery on Tanzanian girl
Hyderabad, July 18
While the nation's attention was focused on the open heart surgery on Pakistani girl Noor Fatima in Bangalore, a complicated and rare procedure on an 18-month-old Tanzanian girl here went unnoticed.
Experts differ on sending troops to Iraq
New Delhi, July 18
A debate is on about sending Indian troops to Iraq under the aegis of the United Nations even as the USA and the UK are stoutly defending the war against that country.
Mufti persuades Sonia to keep Omar out
Jammu, July 18
Alarmed over the reports that Ms Sonia Gandhi, Congress President, was planning to invite the National Conference chief, Mr Omar Abdullah, to her Sunday's meeting with the Opposition parties to chalk out a strategy before the elections in five states, the Chief Minister, Mufti Mohammad Sayeed, and the Deputy Chief Minister, Mr Mangat Ram Sharma, have persuaded the Congress high command to keep the NC away.


Nation page: Sonia calls meeting of oppn parties


Farmers upbeat after showers
Patiala, July 18

Farmers are in a upbeat mood in most parts of the Punjab, Haryana and Himachal Pradesh. The reason is moderate to heavy rainfall in the past 48 hours in various parts of these states.
Happy over the good rainfall farmers are busy in their fields at Niamatpur village near Rajpura on Friday. — Tribune photo Manoj Mahajan

BJP to mend fences with VHP
July 18, 2003
150 feared washed away in Kulu cloudburst
July 17, 2003
MiG-21 explodes
July 16, 2003
No Indian troops for Iraq
July 15, 2003
Musharraf has vested interest in instability: Gujral
July 14, 2003
India rejects Pak terms for resuming air links
July 13, 2003
Peace journey begins
July 12, 2003
VP Singh: Bajrang Dal, RSS following ISI agenda
July 11, 2003
Cong open to pacts with secular parties
July 10, 2003
Cong for quota in private sector
July 9, 2003