Akhnoor killings send govt into a tizzy
PM keeping up with latest reports
New Delhi, July 22
The unprecedented incident of the Northern Army Commander, Lieut-Gen Hari Prasad, and GOC of the Nagrota-based 16 Corps, Lieut-Gen TPS Brar, getting injured and a Brigadier of the EME being killed in a terrorist attack on Akhnoor Army camp today sent the Central Government in a tizzy with Prime Minister Atal Bihari Vajpayee himself keeping abreast with the latest developments.
Deal with us, not Pervez, is Rahman's message
J&K page

Attacks bid to derail peace process, says Mufti

Attack to protest Fazal-ur-Rahman's remarks
Nation page

Attacks aimed at disrupting peace process, says Advani

Editorial: Acts of desperation
Jaguar crashes in Ambala
Pilot bails out
Ambala, July 22
A Jaguar fighter aircraft crashed within the Air Force Station, Ambala Cantonment, this evening. This is the fifth incident of a fighter aircraft crashing in Ambala in little more than a year.
In Health Tribune today
HOROSCOPE
THE TRIBUNE MAGAZINES
On alternate Mondays

On Sundays
On Saturdays
IN PASSING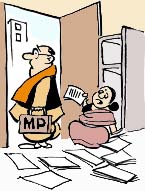 Here is your 1999 speech on Ayodhya. You can use it again.

by Sandeep Joshi
Edit page: Too many MiGs are crashing

Wreckage of the Jaguar which crashed in the Air Force Station, Ambala Cantt, on Tuesday. The picture was taken from outside the station.
— Photo Neeraj Chopra


---
90 pc stamp papers fake, says police
New Delhi, July 22
Are the judicial papers purchased by the people at the time of buying either immovable or movable property and now lying inside their lockers genuine or fake? Well, according to the experts and the police officials investigating a nationwide racket, 90 per cent of such papers sold to people are fake and an equivalent number are still in circulation in various states.


Fake stamps were sold in Punjab, Haryana too
---

LS adjourned over Ayodhya again
New Delhi, July 22
The "dropping" of conspiracy charge against Deputy Prime Minister L.K. Advani in the Ayodhya case rocked both Houses of Parliament today.

Nation page

BJP dares Cong on Ayodhya again

CPM seeks Vajpayee's explanation

Hospital handover kept on hold
Amritsar, July 22
There were ripples of discontent over reports that the civil hospital built in memory of the Jallianwala martyrs from a loan under the World Bank project is to pass into private hands.
Ayodhya rocks Lok Sabha
July 22, 2003
BJP to make Sonia's origin poll issue
July 21, 2003
BJP tries to please Sangh Parivar on Ayodhya
July 20, 2003
BJP targets Sonia's foreign origin
July 19, 2003
BJP to mend fences with VHP
July 18, 2003
150 feared washed away in Kulu cloudburst
July 17, 2003
MiG-21 explodes
July 16, 2003
No Indian troops for Iraq
July 15, 2003
Musharraf has vested interest in instability: Gujral
July 14, 2003
India rejects Pak terms for resuming air links
July 13, 2003