HOROSCOPE
Bid to storm Army camp, 2 killed
Poonch, September 4
Two Pakistani terrorists were shot when they tried to make a Tanda-style suicide attack on an Army camp here today.
BJP leaders on Jaish hit list
Security beefed up at party headquarters
New Delhi, September 4
The top BJP leadership, including its President Venkaiah Naidu, and the party headquarters here have come under threat from the outlawed JeM terrorist outfit.
Jugraj Singh's condition stable
Ludhiana, September 4
Dhanraj Pillay, captain of the Indian team who came here last night to inquire about hockey star and penalty corner specialist Jugraj Singh who suffered multiple fractures in a car accident on the outskirts of Jalandhar on Tuesday night, said India would certainly miss him during the forthcoming Asia Cup and the Afro-Asian Games.

In video (28k, 56k)
TRIBUNE SPECIAL

State of universities
The Tribune has a close look at the state of universities in Punjab, Haryana and
Himachal Pradesh

In Career Guide today
THE TRIBUNE MAGAZINES
On alternate Mondays

On Sundays
On Saturdays
IN PASSING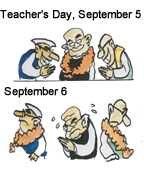 by Sandeep Joshi
President talks to Jugraj

Govt support reassured

Editorial: Icon in the making
Vigilance quizzes VC for 4 hours
Shimla, September 4
A team of the Vigilance Department today questioned Dr S.D. Sharma, Vice-Chancellor of the Himachal Pradesh University, for about four hours in connection with the case registered against him.
Bonanza for Haryana non-teaching staff
Chandigarh, September 4
The Haryana Cabinet today decided to revise the pay scales of non-teaching employees of four universities in the state — Kurukshetra University, Maharshi Dayanand University, CCS Haryana Agricultural University and Guru Jambheshwar University, with effect from January 1, 1996.
HC deprives SC candidates of statutory benefit
Chandigarh, September 4
The constitutional provision of 20 per cent reservation for the Scheduled Castes candidates seems to have been done away with in the Punjab Civic Service (Judicial Branch) examination.


Baba Ghala accepts tankhah for 1984 kar seva
Amritsar, September 5
Baba Ghala Singh, chief of Nanaksar Kaleran (Ludhiana) today accepted the tankhah for carrying out kar seva of the Akal Takht building, which was damaged during the Army operation in June 1984.

Baba Ghala Singh, chief of Nanaksar Kaleran who accepted the tankhah on behalf of Baba Narain Singh who carried out kar seva of Akal Takht which was damaged after Operation Bluestar in June 1984. The tankhah was pronounced from Akal Takht by Giani Joginder Singh Vedanti on Thursday.
— Photo Rajiv Sharma
Govt clears 8000-cr Hawk deal
September 4, 2003

Day of terror in J&K
September 3, 2003

SC refuses to stay Babri trial
September 2, 2003

Five arrested for Mumbai blasts
September 1, 2003
Mastermind of Parliament attack Gazi Baba killed
August 31, 2003
582-cr package for J&K
August 30, 2003
Article 356 to be used only with safeguards
August 29, 2003
39 killed in Nashik stampede
August 28, 2003
Mayawati resigns, Mulayam stakes claim
August 27, 2003
Mumbai panics as twin blasts kill 46
August 26, 2003
Mufti for opening of border posts
August 25, 2003