HOROSCOPE
Rich, poor nations clash over farm issue in WTO
India, 15 other countries form league
Cancun (Mexico), September 12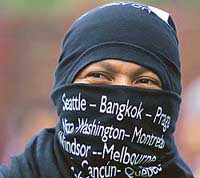 The conference of the WTO currently under way here was caught in a deadlock over attempts by the rich nations to steamroll their way on trade and investment issues as developing countries, including India, opposed the bypassing of the contentious subject of agriculture.
A protester covers his face with a shirt listing the sites of previous demonstrations in Cancun, Mexico, on Thursday. Protesters continued to throw stones at the riot police outside the Cancun hotel where the WTO ministerial meeting is being held. — Reuters photo

Union, UP Secys shifted over Taj row
New Delhi/Lucknow, September 12
In continued aftershocks of the Taj corridor controversy in bureaucracy, Union Environment Secretary K.C. Mishra and Uttar Pradesh Finance Secretary N. Vajpayee, whose names figure in the CBI report on the project, were today relieved of their charge and asked to wait for their next postings.
In Sports Tribune today
THE TRIBUNE MAGAZINES
On alternate Mondays

On Sundays
On Saturdays
IN PASSING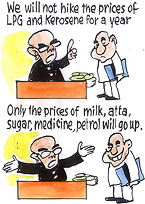 by Sandeep Joshi
Ayodhya case deferred till Sept 19
Rae Bareli, September 12
The special court in Rae Bareli, hearing the Babri Mosque demolition case, is likely to frame charges against Deputy Prime Minister Lal Krishan Advani and seven others on September 19, official sources said here today.


Nation page: RSS for law on building temple
India not to dilute relations with Iran for sake of Israel
New Delhi, September 12
The deepening strategic ties between India and Israel and the on-the-cards trilateral axis involving these two countries and the USA will not in any way dilute New Delhi's relations with Iran whom Tel Aviv and Washington regard as "enemy number one".


Nation page: Iranian Foreign Minister calls up Sinha
New Central scheme for state police
New Delhi, September 12
The Vajpayee government is going to bring a three-tier Central funding scheme for the states to facilitate the modernisation of their police forces and beef up their network for more effective anti-terrorist and special operations.


Traditional Buddhist folk musicians perform during a festival in Leh on Friday. The month of September is a predominantly cultural period in Leh when Buddhist artists and traditional folk dancers take part in performances that are based on their traditional heritage.
— Reuters
Haryana opposes CBI probe
Selection of JBT teachers
New Delhi, September 12
The Haryana Government today opposed a CBI inquiry into the alleged attempt by Chief Minister Om Prakash Chautala to tamper with the selection list of the Junior Basic Trained teachers in 2000 in the Supreme Court but said the state was ready to hold a judicial inquiry to be headed by a high court Judge.


Seven student leaders booked
Security beefed up on Pbi varsity campus
Patiala, September 12
A day after the failure of talks of students of Punjabi University on the issue of revocation of the suspension of student leaders, the local police today swung into action and registered cases against seven student leaders, who had earlier led an agitation calling for the withdrawal of the fee hike.
IN FOCUS
In our series, State of Universities, Shishu Patial examines the functioning of Choudhary Sarwan Kumar Himachal Pradesh Agriculture University, Palampur, on Edit page.

TRIBUNE SPECIAL

State of universities
The Tribune has a close look at the state of universities in Punjab, Haryana and
Himachal Pradesh

Al-Qaida vows more attacks
September 12, 2003

India, Israel vow to end terror
September 11, 2003

India, Israel to fight global terrorism
September 10, 2003

Mamata returns sans portfolio
September 9, 2003

Mamata to be reinducted into Cabinet today
September 8, 2003

8 killed in Srinagar blast
September 7, 2003

BSP heads for split
in UP
September 6, 2003

Kalam calls for second Green Revolution
September 5, 2003

Govt clears 8000-cr Hawk deal
September 4, 2003

Day of terror in J&K
September 3, 2003