HOROSCOPE
Forgiveness, penalty not to be mixed: Gladys
Joshi not to attend office till Vajpayee's return
George fails to persuade hurt minister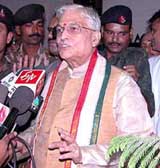 New Delhi, September 22
Even as efforts to persuade Human Resource Development Minister Murli Manohar Joshi to withdraw his resignation from the Union Cabinet continued, he did not attend office today.
Senior BJP leader M. M. Joshi talks to mediapersons at his residence in New Delhi on Monday. — PTI photo

Tripathi saved country, says Mulayam
Judicial remand for ex-minister


New Delhi, September 22
Displaying the depth of his new-found friendship with former Uttar Pradesh minister Amarmani Tripathi, Chief Minister Mulayam Singh Yadav today ruled out any action against him in the wake of his arrest by the CBI in the Madhumita murder case yesterday.
In Education Tribune today
THE TRIBUNE MAGAZINES
On alternate Mondays

On Sundays
On Saturdays
Editorial: Mulayam's company
SC returns Bhattal case records


New Delhi, September 22
To ensure speedy disposal of a corruption case against Punjab Rural Development and Panchayat Minister Rajinder Kaur Bhattal by a Special Court at Chandigarh, the Supreme Court has sent the entire original records of the case back to it.
Mysterious fever diagnosed as scrub typhus
Shimla, September 22
The National Institute of Communicable Disease has finally confirmed that the mysterious fever, which would not be diagnosed for four years, is scrub typhus, a disease of the rickettsial group caused by mites.
Tamil Nadu to slap POTA on Union minister
Chennai, September 22
In the first action of its kind, the Tamil Nadu Government today decided to slap POTA against Union minister and MDMK treasurer M Kannappan for his alleged open support to the banned LTTE and demanded he be sacked from the Union Ministry.


10 states fined for not having environmental studies
New Delhi, September 22
Concerned over the lack of awareness among people about the protection of environment, the Supreme Court today fined 10 states Rs 15,000 each for failing to respond to its notices seeking information whether they had included environmental studies in the school and college curricula as directed by it.
TRIBUNE SPECIAL

State of universities
A compendium of special articles on institutions of higher learning in Punjab, Haryana & Himachal Pradesh.

RAW officer, 2 others killed in Rajouri blast
September 22, 2003

12 militants shot dead
September 21, 2003

Advani let off; Joshi to face charges
September 20, 2003

SC tightens noose on Maya
September 19, 2003

Decision on troops after UN action: PM
September 18, 2003

SC stays disinvestment in HPCL, BPCL
September 17, 2003

Dara, 12 others convicted for killing Staines
September 16, 2003

India threatens to walk out of meeting
September 15, 2003

Kukka Parray shot dead
September 14, 2003

Quit if you can't protect citizens, SC tells Modi govt
September 13, 2003