THE TRIBUNE MAGAZINES
On alternate Mondays

On Sundays
On Saturdays
---

This image photographed at about midnight (Alaska Standard time) on Thursday shows aurora over the Matanuska glacier and the Chugach mountains in the southeast sky. The Matanuska glacier is about 100 miles northeast of Anchorage. Without any moon, the glacier doesn't show very well. A second huge magnetic solar storm hit Earth on Thursday, just a day after an earlier one hurtled into the planet in what one astronomer called an unprecedented one-two punch. "It's like the Earth is looking right down the barrel of a giant gun pointed at us by the sun and it's taken two big shots at us," said John Kohl of the Harvard- Smithsonian Center for Astrophysics in Massachusetts.
— Reuters

---
Charles mingles with villagers, avoids Indian scribes
Kutail Gamri (Karnal), October 31
The Prince of Wales has supported the campaign to immunise more than 100 million children in India as part of an ongoing programme to eradicate polio in the country. He has also hailed the UK Department for International Development for providing £ 100 million aid to India to eradicate this disease.
Unauthorised 'ahatas' dot Haryana highways
Chandigarh, October 31
"Peeo te jeeo" (drink and live), "Daroo-di-e-band botle,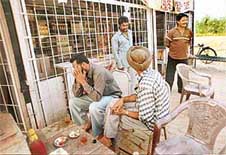 tainu peenage nasiban wale" (o, sealed bottle of liquor, someone lucky will consume you) scream the slogans painted on liquor vends located on the national highway No 1 in Ambala, Kurukshetra and Karnal districts.
CAMERA SHY: Two young men hide their faces as Tribune cameraman Karam Singh takes a picture of open an 'ahata' on The Chandigarh-Ambala road, near Lalru, on Thursday.


Kashmir-specific proposals rejected
October 31, 2003
Pak accepts proposals, but harps on Kashmir
October 30, 2003

1 dead, 37 hurt in Srinagar CTO blast
October 29, 2003

Series of explosions rock Baghdad, 37 dead
October 28, 2003

Pak response to peace moves by next week
October 27, 2003

Talks not at cost of unity, says Advani
October 25, 2003

Hurriyat cautious
October 24, 2003

Fresh move to improve ties with Pakistan
October 23, 2003

Govt raises ceiling on poll expenses
October 22, 2003

Militants take eight villagers hostage
October 21, 2003