THE TRIBUNE MAGAZINES
On alternate Mondays

On Sundays

On Saturdays

Nagmani joins BJP
New Delhi, January 5
In a step which could strengthen the party's electoral prospects in Bihar in the coming Lok Sabha elections, the BJP today formally opened its doors to a central minister and President of the Shoshit Kranti Dal Nagmani.
Vohra meets Advani


New Delhi, January 5
Centre's interlocutor on Jammu and Kashmir N N Vohra today briefed Deputy Prime Minister L K Advani on the prevailing situation, specially with regard to the ongoing peace process in Jammu and Kashmir.
Leaders woo Kalyan Singh, but he keeps options open


Lucknow, January 5
The national president of the Rashtriya Kranti Party, Mr Kalyan Singh, hogged the limelight as leaders of all hues swarmed his residence to greet him on his 71st birthday today.
Mulayam hints at post-poll pact with Cong


Gold palanquin donated to Golden Temple
Amritsar, January 5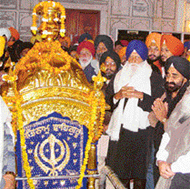 A gold palanquin, weighing 200 kg (including 2.5 kg gold) has been donated to the Golden Temple by a Sikh devotee from outside Punjab. This replaces the over 100-year-old palanquin that weighed more than three quintals.
A gold palanquin weighinng 200 kg (including 2.5 kg gold) which has been donated to the Golden Temple, Amritsar by a devotee.

In Education Tribune today
India, Pak avoid Kashmir at SAARC
January 5, 2004
PM keeps door open for talks
January 4, 2004
SAARC agrees on terror protocol
January 3, 2004

Sinha flies into Pak as air links are restored
January 2, 2004

Foreign Secys struggle to iron out differences
January 1, 2004


Capt shifts Pandey
December 31, 2003

Pak not to raise Kashmir issue
December 30, 2003
India to call for joint SAARC plan on terror
December 29, 2003
Indian security cover for Vajpayee in Pak
December 28, 2003

Musharraf's attackers identified
December 27, 2003