THE TRIBUNE MAGAZINES
On alternate Mondays

On Sundays

On Saturdays

IN PASSING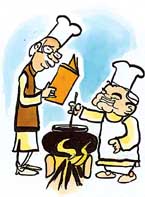 Try this recipe — election mutter corma, shahee manifesto paneer ...

by Sandeep Joshi
(Click to enlarge)
Tunnel dug with electrical gadgets
Chandigarh, January 27
The three terrorists who escaped from Burail Jail, possibly dug the tunnel using an electrical machine. And the walls of the tunnel may have been plastered with some substance mixed with mud to make the structure stable.


Map helped accused to dig tunnel

Escape from Burail: red corner alert sounded
HC refuses to defer framing of charges against Bhattal
Chandigarh, January 27
The Punjab Government apparently suffered a setback after the Punjab and Haryana High Court today rejected its plea for deferring the framing of charges against Deputy Chief Minister Rajinder Kaur Bhattal.
Israeli defence consignment for India
Jerusalem, January 27
Israeli defence electronics company, Elbit Systems Limited is to supply India with thermal imaging day/night observation systems for various military and security applications in a deal worth $ 53 million, sources said.


Amritsar's first electric train flagged off
Amritsar, January 27
The Union Minister for Railways, Mr Nitish Kumar, flagged off the first electric train from here on Republic Day yesterday. Showing the green flag to the Amritsar-Moori Express at about 7.45 p.m. the Union Minister announced that a new daily inter-city electric train between Chandigarh and Amritsar would become operational soon.

Union Railway Minister Nitish Kumar inaugurates the electrification of Amritsar-Ludhiana rail section by flagging off Amritsar-Moori Express from Amritsar railway station on Monday.
— PTI photo
Hurriyat ready to drop plebiscite demand
January 26, 2004
NCP splits
January 25, 2004
Fire at wedding kills 54
January 24, 2004
Beant case accused flee
January 23, 2004
Kashmir, HP highways closed
January 22, 2004

Gorshkov deal clinched
January 21, 2004
Krishna Murthy to be new CEC
January 20, 2004
Hurriyat wants to visit Pak before talks
January 19, 2004
Interim Budget on February 3
January 18, 2004
2 top Hizb militants shot
January 17, 2004