THE TRIBUNE MAGAZINES
On alternate Mondays

On Sundays

On Saturdays

IN PASSING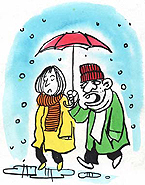 Ever since they launched India shining campaign it has been raining.

by Sandeep Joshi
(Click to enlarge)
3 holed-up militants shot in valley
Srinagar, January 31
Three militants, who had taken shelter in a village mosque, were killed today by Army troops after nearly a seven-hour-long siege of the shrine in Jammu and Kashmir's Badgam district, an Army spokesman said.
Jammu & Kashmir incentives to tame terrorists
Jammu, January 31
In a bid to make terrorists return to their homes, the Jammu and Kashmir Government today announced an incentive of Rs 1.50 lakh and a monthly stipend of Rs 2,000 to each one of them who shuns the gun and returns to the mainstream. Besides, interest-free loans will be provided to them for self-employment.
Suraiya is no more


Mumbai, January 31
Heartthrob of yesteryear, Suraiya, who kept generations of cine-goers spellbound with her acting and singing, died here today after a brief illness, hospital sources said. She was 75.
Best-ever singing heroine

PM condoles Suraiya's death
Acid thrown on women in train
Mumbai, January 31
Three women and a man suffered burn injuries when unidentified persons threw acid at a first-class compartment of a local train between Bandra-Khar railway station of the Western Railway here late last night. The victims, which included a pregnant woman, suffered 25-30 per cent burns, according to the Railway control room here today.



Pak asked to reform madarsaas
New Delhi, January 31
A leading international think-tank has asked Pakistan to undertake reforms in madarsaas and asked the international community to hold the Pakistani Government to its commitments on the subject. The Brussels-based International Crisis Group (ICG) in its recent report "Unfulfilled promises: Pakistan's failure to tackle terrorism" dated January 16, 2004, has recommended to the Pakistan Government to immediately establish a madarsaa regulatory authority headed by the Interior Minister to cleanse the proverbial Augustean stables — madarsaa in context of Pakistan.
HOROSCOPE
Nitish gives sops in poll year
January 31, 2004
Magistrate suspended
January 30, 2004
Karunakaran to form Indira Congress
January 29, 2004
PM recommends Lok Sabha dissolution on Feb 6
January 28, 2004
Hurriyat ready to drop plebiscite demand
January 26, 2004
NCP splits
January 25, 2004
Fire at wedding kills 54
January 24, 2004
Beant case accused flee
January 23, 2004
Kashmir, HP highways closed
January 22, 2004

Gorshkov deal clinched
January 21, 2004