Khan offers public apology, says govt not involved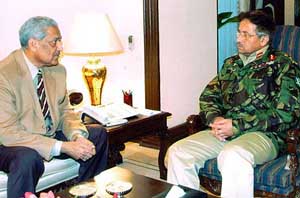 Pakistan President Gen Pervez Musharraf meets the country's top nuclear scientist, Abdul Qadeer Khan, in Islamabad, on Wednesday. Khan appeared on state television to confess and apologise for leaking nuclear secrets to other countries, while absolving the government of any responsibility. — Reuters photo
Islamabad, February 4
The father of Pakistan's nuclear programme, Dr Abdul Qadeer Khan, today offered a public apology for his involvement in leaking the country's nuclear secrets to other nations, while giving a clean chit to the Pakistani government.
The apology was telecast live on state-owned PTV.
Dr Khan has been accused of leaking atomic weapons secrets to Libya, Iran and North Korea. "My brothers and sisters, I have chosen to appear before you to offer my deepest regrets and unqualified apologies to a traumatised nation," he said.
"I also wish to clarify that there was never ever any kind of authorisation for these activities by the government," he said.
Earlier he submitted "his mercy petition to the President and requested for clemency," it said.
"The President said the entire nation has been traumatised by the unfortunate events of two months," a reference to the ongoing probe into nuclear proliferation, the state-run PTV reported.
It said Dr Khan, while accepting responsibility for nuclear leaks, submitted before the President that he had realised that these activities were in "clear violation" of various Pakistani laws and could have jeopardised the country's nuclear capabilities putting the nation at risk.
Dr Khan, who was reported to be under house arrest for several weeks and questioned intensively by Pakistani investigators about the alleged transfer of nuclear technology, in a surprise move sought a meeting with General Musharraf this morning, which was immediately granted. The two met at the President's Camp Office in Rawalpindi for over an hour.
After the meeting, Dr Khan told PTV that "it was an extremely fine and helpful meeting. The President was exceptionally kind and understanding. We discussed this ongoing affair and the international campaign against Pakistan about nuclear matters.
"I explained all the things and gave him the background of what has happened and what is happening. He appreciated the frankness with which I gave him the details. Insha allah he will discuss the details with the Cabinet, the Prime Minister and other colleagues and take decision on how to proceed about it."
The PTV said General Musharraf heard Dr Khan's account of events and said he would take a decision after consulting the National Commmand Authority, which is in charge of the nuclear matters.
"During the meeting, Dr Khan has re-confirmed to the President the details of the proliferation activities that he has committed in the past, which he admitted to the team of investigators appointed by the government," it said. — Agencies