THE TRIBUNE MAGAZINES
On alternate Mondays

On Sundays

On Saturdays

IN PASSING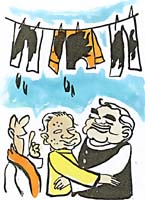 Kalyan ji, should we retain these mud stained clothes for old times sake?

by Sandeep Joshi
(Click to enlarge)
Another slew of sops from FM
New Delhi, February 4
The Lok Sabha today passed the Interim Budget with Finance Minister Jaswant Singh adding another appendix to the pre-election sop story through a slew of measures including the continuation of exemption on dividend distribution tax to open-ended equity oriented mutual fund schemes, a subsidy of Rs 8 per kg for tea growers and a Rs 100 crore fund for small scale industrial (SSI) units.
Khan offers public apology, says govt not involved
Islamabad, February 4
The father of Pakistan's nuclear programme, Dr Abdul Qadeer Khan, today offered a public apology for his involvement in leaking the country's nuclear secrets to other nations, while giving a clean chit to the Pakistani government.

Malika Pukhraj dead
Islamabad, February 4
Malika Pukhraj of "Abhi to main jawan hoon" song fame died in Lahore today after a protracted illness. She was 90. She is survived by a daughter.

Nation page

Malika of all times


Dyeing units emit slow death
10,000 TB cases in Ludhiana's Budha Nullah area
LUDHIANA: Foul smell of chemicals, clouds of black smoke and blackish water of Budha Nullah — the drain passing through city — welcome you as you enter this industrial hub of Punjab.
The blackish water of the Budha Nullah speaks of the amount of untreated industrial waste pumped into it at Balmiki Ghatti in Ludhiana. — Photo by Inderjit Verma
Interim Budget bonanza for Central staff
February 4, 2004

DIG shot outside Srinagar mosque
February 3, 2004

244 killed in Haj stampede
February 2, 2004

Pakistan sacks top N-scientist
February 1, 2004

Nitish gives sops in poll year
January 31, 2004

Magistrate suspended
January 30, 2004

Karunakaran to form Indira Congress
January 29, 2004
PM recommends Lok Sabha dissolution on Feb 6
January 28, 2004
Hurriyat ready to drop plebiscite demand
January 26, 2004
NCP splits
January 25, 2004