THE TRIBUNE MAGAZINES
On alternate Mondays

On Sundays

On Saturdays

Government cuts duties on steel products
New Delhi, February 27
To provide respite to economy from spiralling steel prices, the government today decided on major cuts in excise and custom duties and export incentives even as major producers including SAIL and Essar are understood to have agreed on slashing prices on some steel products by up to Rs 2000 a tonne.
Recruitment ban on in Punjab
Chandigarh, February 27
In less than a month after the state of Punjab issued statements regarding lifting of ban on new recruitments, the government today informed a Division Bench of the Punjab and Haryana High Court that final decision was yet to be taken by the council of ministers.
Salwan likely to be PTU Vice-Chancellor


Chandigarh, February 27
Prof S.K. Salwan is likely to be new Vice-Chancellor of Punjab Technical University, Jalandhar. A Senior Adviser at the PTU, he succeeds Prof Y.S. Rajan, who had quit over politico-bureaucratic "pressures and disturbances'' in the academics.
Japan's cult ex-guru sentenced to death
Tokyo, February 27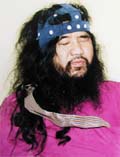 Former doomsday cult guru Shoko Asahara was convicted and sentenced to death for masterminding the deadly 1995 nerve gas attack on the Tokyo subway and a string of other crimes that killed 27 people.

Former leader of the Aum shinrikyo cult Shoko Asahara is seen shortly after being arrested in Kamikuishiki town in this file photo.
— Reuters photo


Mystery shrouds landing of hot air balloon in Pak
Amritsar, February 27
Mystery shrouds the landing of a hot air balloon on the Pakistan side, a few metres away from the international border. A sentry of the Fatehpur border post under Majitha police district spotted the flying balloon around sun-set yesterday. The BSF authorities immediately informed the Punjab Police.

In Sports Tribune today
Revolt will not hit Cong: Sonia
February 27, 2004

Hurriyat threatens to pull out of talks
February 26, 2004
Arif joins BJP
February 25, 2004
Blast in space centre kills 6
February 24, 2004
PM launches insurance scheme from Lucknow
February 23, 2004
Pak tour from March 10
February 22, 2004
2 pc additional DA for Central staff
February 21, 2004
30 hurt as blast rocks Amritsar Dist Courts
February 20, 2004
Indo-Pak roadmap for peace
February 19, 2004