In Agriculture Tribune today
THE TRIBUNE MAGAZINES
On alternate Mondays

On Sundays

On Saturdays

Code of conduct ends 'India Shining' advt
New Delhi, February 29
The multi-crore 'India Shining' advertisement campaign by the government comes to end and the ban on advertisements by political parties on TV and radio comes into effect with the EC announcing the poll schedule and the Model Code of Conduct coming into effect.


Editorial: Ban on TV ads
CJ allocates administrative work
Chandigarh, February 29
The Chief Justice of the Punjab and Haryana High Court, Mr Justice B.K. Roy, has allocated the administrative work of sessions divisions to those High Court Judges who had expressed willingness to accept the responsibility.
Poverty stalks farm labourers
Karnal, February 29
Small farmers and landless people in the remote rural areas of Haryana are facing acute poverty with daily wages of farm labour coming down to a level that hardly makes both ends meet.


IAF to induct 125 new fighter aircraft
New Delhi, February 29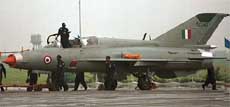 The Indian Air Force is in hectic negotiations with French, Russian and US bidders to purchase 125 frontline multi-role fighter planes to partially replace nearly 300 MiG-21 aircraft on the verge of being phased out.

Osama: captured or not?
February 29, 2004

Mufti Sayeed escapes grenade attack
February 28, 2004

Revolt will not hit Cong: Sonia
February 27, 2004

Hurriyat threatens to pull out of talks
February 26, 2004
Arif joins BJP
February 25, 2004
Blast in space centre kills 6
February 24, 2004
PM launches insurance scheme from Lucknow
February 23, 2004
Pak tour from March 10
February 22, 2004
2 pc additional DA for Central staff
February 21, 2004
30 hurt as blast rocks Amritsar Dist Courts
February 20, 2004