In Health Tribune today
HOROSCOPE
THE TRIBUNE MAGAZINES
On alternate Mondays

On Sundays

On Saturdays

Editorial: Candidates beware

UP Congress to discuss campaign strategy today
New Delhi, March 2
With the Bahujan Samaj Party chief Mayawati keeping the Congress on tenterhooks regarding alliance for the Lok Sabha poll, the party has decided to launch its election campaign in all 80 seats in Uttar Pradesh.


AICC to run UP show

Cong, NCP talks inconclusive

Mir among 50 rounded up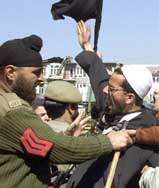 Srinagar, March 2
At least five persons were injured and over 50 others rounded up when the police prevented mourners to take out Muharram procession in the central Lal Chowk area here today.


In video (28k, 56k)

A policeman tries to stop a mourner during an Ashoora procession in Srinagar on Tuesday.
— Reuters photo




From left: Rahul Dravid, Irfan Pathan, Harbhajan Singh and Sourav Ganguly
4 Indians on ICC blacklist
London, March 2
This is one statistics Indian cricketers would like to forget soon. As many as four of them feature in the ICC blacklist for violating the Code of Conduct since its introduction in April 2002, which is second behind South Africa who have the maximum players guilty at five.


In video (28k, 56k)
EC dares to bare candidates
March 2, 2004

4-phase LS poll in April, May
March 1, 2004

Osama: captured or not?
February 29, 2004

Mufti Sayeed escapes grenade attack
February 28, 2004

Revolt will not hit Cong: Sonia
February 27, 2004

Hurriyat threatens to pull out of talks
February 26, 2004
Arif joins BJP
February 25, 2004
Blast in space centre kills 6
February 24, 2004
PM launches insurance scheme from Lucknow
February 23, 2004
Pak tour from March 10
February 22, 2004
2 pc additional DA for Central staff
February 21, 2004