THE TRIBUNE MAGAZINES
On alternate Mondays

On Sundays

On Saturdays

IN PASSING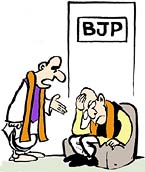 Feeling depressed. Why don't you resign and rejoin the party?

by Sandeep Joshi
(Click to enlarge)
Yatra to go on as scheduled, asserts BJP

PM woos voters on mobiles
Broadcasters lobby for political advertisements
New Delhi, March 3
With over Rs 70 crore political advertisement revenue at stake, broadcasters today met Chief Election Commissioner T S Krishna Murthy and officials of the Information and Broadcasting Ministry to seek a way out to circumvent the ban.
Give details of 'India shining' expenses: HC
New Delhi, March 3
After asking the Election Commission to place on record relevant material on the "India Shining and Bharat Uday" campaign of the NDA government last week, the Delhi High Court today directed the Centre to furnish details about the expenses incurred by it on advertisements splashed in various newspapers.
Amarinder meets Jaswant


New Delhi, March 4
Punjab Chief Minister Capt Amarinder Singh today met Union Finance Minister Jaswant Singh regarding the state's demand for a special industrial package for the state on the pattern of the neighbouring states of Himachal Pradesh and Uttaranchal.

Pak visas for match from today
New Delhi, March 3
The Pakistan High Commission will start issuing visas from tomorrow for cricket lovers who want to travel to Pakistan for watching the upcoming one-day internationals, Deputy High Commissioner Munnawar Sayeed Bhatti told The Tribune today.
Visa-seekers hoping to watch the Indo-Pak cricket series outside the Pakistan High Commission in New Delhi on Wednesday.
— PTI

photo
In Science & Technology today
Blasts in Iraqi mosques leave 140 dead
March

3

, 2004
EC dares to bare candidates
March 2, 2004

4-phase LS poll in April, May
March 1, 2004

Osama: captured or not?
February 29, 2004

Mufti Sayeed escapes grenade attack
February 28, 2004

Revolt will not hit Cong: Sonia
February 27, 2004

Hurriyat threatens to pull out of talks
February 26, 2004
Arif joins BJP
February 25, 2004
Blast in space centre kills 6
February 24, 2004
PM launches insurance scheme from Lucknow
February 23, 2004
Pak tour from March 10
February 22, 2004
2 pc additional DA for Central staff
February 21, 2004