PUNJAB
HARYANA
JAMMU & KASHMIR
HIMACHAL
REGIONAL BRIEFS
NATION
OPINIONS
MAILBAG
BUSINESS
SPORTS
WORLD
N A T I O N

Kidnap drama raked up on poll eve
Mumbai, March 4
With less than two months to go for the Lok Sabha elections, the ruling Democratic Front in Maharashtra is making the most of a complaint of kidnapping filed against former Maharashtra Chief Minister Narayan Rane and Deputy Chief Minister Gopinath Munde of the Shiv Sena and the Bharatiya Janata Party, respectively.
Cong seeks opinion of the educated: Ashwani
New Delhi, March 4
Keen to enlist the support of intelligentsia ahead of the Lok Sabha polls, the Congress is seeking the opinion of the educated classes all over the country about issues of their concern.

Congress may rope in Karisma Kapoor
New Delhi, March 4
Even as the BJP is busy parading Bollywood stars at 9 Ashoka Road, the Congress is said to be in touch with the tinsel world's charishma — Karisma Kapoor — to join the party.
Cong decries CBI chief's appointment as NHRC member
New Delhi, March 4
The Congress today took exception to the appointment of CBI Director P.C. Sharma as a member of the National Human Rights Commission (NHRC) in view of his "dubious past".
BJP downplays Advani's remarks
New Delhi, March 4
BJP leaders today embarked on a damage-control exercise over the reported statement of Deputy Prime Minister L.K. Advani at Palwal yesterday urging voters not to go for smaller and regional parties in the larger interest of the nation.
Time for Bihar Govt to go, says Fernandes
Patna, March 4
Janata Dal(U) President and Defence Minister George Fernandes today blamed the RJD government in Bihar for the stagnation in developmental activities despite all efforts by the Centre to set it in order.
Mulayam, son to contest LS poll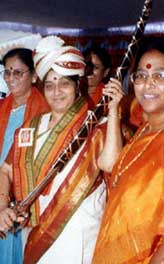 Union Health Minister Sushma Swaraj holds a sword presented to her by the state BJP women's wing in Hyderabad on Thursday.
— PTI

UN fears rise in drug smuggling
March 4, 2004
Cricket series to make Indian tourism shine
March 3, 2004
SP, RLD forge alliance in UP
March 2, 2004
Rana's brother, accomplice held in jailbreak case
March 1, 2004
SC rejects CBI plea for blood sample of Punjabi NRI in murder case
February 29, 2004
BJP leader killed, railway tracks blown up during bandh
February 28, 2004
Cong riding high on southern comfort
February 27, 2004
SIT quizzes Bhujbal's nephew again
February 26, 2004
Cong may pit Vaghela against Advani
February 25, 2004
Regularisation of forest encroachment stayed
February 24, 2004
Becoming premier not a priority: Sonia
February 23, 2004