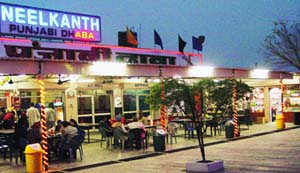 Our desi drive-ins
Dhabas have got a makeover. They are becoming new magnets for the young 'n' hip. These highway joints have jazzed up their act with an eye on the city youth who are coming in droves, says Raman Mohan.



Dhaba delights
The Grand Trunk Road, perhaps, boasts of the largest number of dhabas. K. K. Khullar says that famous travellers like Megasthenes and Hieun Tsang have testified to the joy of eating at these roadside stalls.

Hidden poetic charms
Randeep Wadehra
IF you thought that the late Gurmukh Singh Musafir, and now VP Singh and Atal Bihari Vajpayee have been the only politician-poets around, think again. Punjab has a talented politician-poet too. Want a clue? Recently she gave Capt. Amarinder Singh a touch of insomnia with her not-so-poetic tactics. Yes, she's Rajinder Kaur Bhattal.

Eye-catcher