PUNJAB
HARYANA
JAMMU & KASHMIR
HIMACHAL
REGIONAL BRIEFS
NATION
OPINIONS
MAILBAG
BUSINESS
SPORTS
WORLD
Tuesday, May 25, 2004, Chandigarh, India
Updated at 3:00 am (IST)

DMK threatens to pull out
Seeks promised berths, final decision today
Chennai, May 24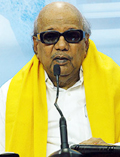 Within 48 hours of being sworn in the Congress-led United People's Alliance ministry has run into rough weather with the Dravida Munnetra Kazhagam threatening to pull out of the Central Government unless its ministers are allotted the promised portfolios.

DMK President M. Karunanidhi at an emergency press briefing in Chennai on Monday. — Photo by S. Sukumar


DMK ministers stay away from office

Nation page: BJP criticises Union Cabinet composition

Thackeray predicts fall of UPA govt

CAST YOUR VOTE
Will the fighting over portfolios affect the stability of the govt?

AGRICULTURE
EDUCATION
HEALTH & FITNESS
SCIENCE & TECHNOLOGY
CAREER GUIDE
SPORTS
HER WORLD
TRIBUNE CLASSIFIEDS
BRIDES WANTED
GROOMS WANTED
OTHERS
HOW TO PLACE ADVTS
Pranab hints at probe into defence deals
New Delhi, May 24

Assuming charge of the Defence Ministry here this morning, Pranab Mukherjee said some defence deals of the previous National Democratic Alliance government could come under a cloud. He made it clear that certain deals inked by former Defence Minister George Fernandes could be looked into.



In video: New Cabinet ministers assume office. (28k, 56k)

POTA not necessary, says Home Minister
New Delhi, May 24


Asserting that the government did not consider the controversial Prevention of Terrorism Act as 'necessary', the new Union Home Minister Shivraj Patil today indicated that the Centre could amend or allow the Act to expire.

Home Minister Shivraj Patil speaks to the media in New Delhi on Monday. — Reuters photo


In video (28k, 56k)
Nation page:

Bharadwaj for repealing POTA, corruption-free judiciary

POTA needed to check terrorism, says BJP

In Education Tribune today
THE TRIBUNE MAGAZINES
On Sundays

On Saturdays


No shift in foreign policy: Natwar
New Delhi, May 24
The External Affairs Minister, Mr Natwar Singh, today stated that there will not be much shift in India's foreign policy and stressed that New Delhi will work towards improving relations with all countries, including Pakistan.
Powell, Straw for strengthening relations
Marginal hike in petrol, diesel prices likely
New Delhi, May 24
The government is likely to announce a marginal increase of at least Re 1 per litre in petrol and diesel prices soon despite stiff opposition from the Left parties and partners in the ruling United Progressive Alliance.
SC dismisses PIL on Sonia's citizenship
New Delhi, May 24
The Supreme Court today dismissed a petition challenging Congress President Sonia Gandhi's entitlement to become the Prime Minister of the country because of her foreign origin and grant of citizenship to her allegedly in violation of law.
SAD may ask Barnala to quit as Governor
Amritsar, May 24
The Political Affairs Committee of the Shiromani Akali Dal will decide whether Mr Surjit Singh Barnala should quit as the Governor of Andhra Pradesh or not in wake of the change of guards at the Centre.
Jugraj among probables
New Delhi, May 24
The Indian Hockey Federation put at rest all the speculation and uncertainty surrounding the selection of the Olympic probables when it named 26 players, including penalty corner specialist Jugraj Singh, for the Athens games 2004. (Details on sports page)


In video (28k, 56k)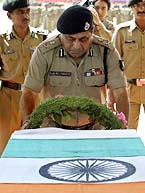 Kashmir blast toll put at 29
Humahama (Budgam), May 24
The death toll in yesterday's IED explosion on the Srinagar-Jammu national highway has been put at 29.

Mr Ajay Raj Sharma, Director-General of the Border Security Force, salutes a coffin of a jawan at a wreath-laying ceremony at Humahama, Budgam, on Monday. — Reuters photo


J&K page: Army deployed on Jammu-Srinagar highway

Two securitymen among 9 killed
Editorial: Terror toll
FORUM
The Tribune is the voice of the people. It is always keen to encourage debate on major issues facing the country. We want our readers to participate in the venture. We are starting a new feature called Forum which will provide a platform to our readers to express their opinions on major issues. Beginning this week, their views will be published every Thursday on a page being specially earmarked for this. We invite readers to give their views on the question:
What should the government led by Dr Manmohan Singh do in running the affairs of the nation?
The letters should not be more than 150 words. They can be sent to the Editor-in-Chief, The Tribune, Sector 29-C, Chandigarh, with the word 'Forum' mentioned on the envelope. They can also be e-mailed to:

[email protected]

— H.K.Dua (Editor-in-Chief)
Portfolio allocation throws up surprises
May

24

, 2004

Manmohan heads 68-member Ministry
May

23

, 2004

Allies bargain hard for key portfolios
May

22

, 2004

Indo-Pak friction must end: Manmohan
May

21

, 2004

Manmohan Singh to be PM
May

20

, 2004

Sonia declines post of PM
May

19

, 2004

Bloodbath on the bourses in Dalal Street
May

18

, 2004

Allies want Sonia to be PM
May

17

, 2004

Decks cleared for Sonia-led govt
May

16

, 2004

Sonia emerging front runner
May

15

, 2004

NDA VOTED OUT
May

14

, 2004

People's verdict today
May

13

, 2004