PUNJAB
HARYANA
JAMMU & KASHMIR
HIMACHAL
REGIONAL BRIEFS
NATION
OPINIONS
MAILBAG
BUSINESS
SPORTS
WORLD
Wednesday, May 26, 2004, Chandigarh, India
Updated at 3:00 am (IST)

A Tribune Exclusive
Criminal on bail in Manmohan Ministry
Taslimuddin involved in cases of attempt to murder, extortion, Arms Act...


New Delhi, May 25
Even before getting a vote of confidence from the 14th Lok Sabha, the Manmohan Singh government is facing unprecedented embarrassment over the induction of Mr Mohammed Taslimuddin in the Council of Ministers because of his criminal antecedents.


BJP objects to inclusion of 'tainted' ministers

Nation page: Cases motivated: Taslimuddin
CAST YOUR VOTE
Should the NDA government's defence deals be probed?

AGRICULTURE
EDUCATION
HEALTH & FITNESS
SCIENCE & TECHNOLOGY
CAREER GUIDE
SPORTS
HER WORLD
TRIBUNE CLASSIFIEDS
BRIDES WANTED
GROOMS WANTED
OTHERS
HOW TO PLACE ADVTS





CPM clears Chatterjee for Speaker's post
Kolkata, May 25
The CPM Politburo ultimately agreed to Mrs Sonia Gandhi's offer of the Lok Sabha Speakership to Mr Somnath Chatterjee after much dilly-dallying and the day-long deliberations.

In video (28k, 56k)


Veteran CPM leader Somnath Chatterjee poses with flowers sent by a supporter at his residence in Kolkata on Tuesday.
— AFP photo
Portfolio crisis blows over as DMK has its way
New Delhi, May 25
The impasse between the Congress and the DMK on the allocation of portfolios has been resolved with Prime Minister Manmohan Singh removing any misgivings with promptitude and assigning the promised portfolios to the Dravidian party's ministers.


In video (28k, 56k)
THE TRIBUNE MAGAZINES
On Sundays

On Saturdays

IN PASSING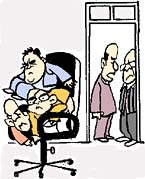 Sir, you should not have promised the same portfolio to all.

by Sandeep Joshi
(Click to enlarge)
UPA to discuss CMP today
Editorial: DMK's berth-right


Vajpayee may head parliamentary party, Advani Oppn leader
New Delhi, May 25


Emulating its main political rival, the BJP is likely to elect former Prime Minister Atal Bihari Vajpayee as Chairman of its parliamentary party, while making the former Deputy Prime Minister the Leader of the Opposition.
Lahoti is next CJI


New Delhi, May 25
Mr Justice R.C. Lahoti, seniormost judge of the Supreme Court, was today appointed the next Chief Justice of India by the President, Dr A.P.J. Abdul Kalam.
Cong set to acquire young look
New Delhi, May 25
The Congress-led government may be staffed by "the same old faces" but the party organisation is all set to acquire a young look.
Sunil Dutt to focus on youth affairs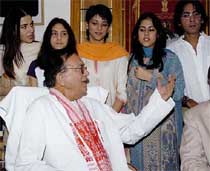 New Delhi, May 25
Veteran film actor Sunil Dutt took charge as the Union Minister for Youth Affairs and Sports at Shastri Bhavan here today and made it clear that youth affairs would get precedence over sports.

Newly appointed Minister for Youth Affairs and Sports Sunil Dutt with his relatives, while assuming charge at his office in New Delhi on Tuesday. — PTI photo


Dalit woman burnt alive at police station
Mumbai, May 25
The death of a 65-year-old Dalit woman, allegedly burnt alive by a police officer at CIDCO MIDC police station in Aurangabad, rocked the Maharashtra Assembly with the Opposition Shiv Sena-Bharatiya Janata Party forcing two adjournments on the issue.

In Health Tribune today
DMK threatens to pull out
May

25

, 2004

Portfolio allocation throws up surprises
May

24

, 2004

Manmohan heads 68-member Ministry
May

23

, 2004

Allies bargain hard for key portfolios
May

22

, 2004

Indo-Pak friction must end: Manmohan
May

21

, 2004

Manmohan Singh to be PM
May

20

, 2004

Sonia declines post of PM
May

19

, 2004

Bloodbath on the bourses in Dalal Street
May

18

, 2004

Allies want Sonia to be PM
May

17

, 2004

Decks cleared for Sonia-led govt
May

16

, 2004

Sonia emerging front runner
May

15

, 2004