PUNJAB
HARYANA
JAMMU & KASHMIR
HIMACHAL
REGIONAL BRIEFS
NATION
OPINIONS
MAILBAG
BUSINESS
SPORTS
WORLD
Sunday, June 13, 2004, Chandigarh, India
Updated at 3:00 am (IST)
Ultras target tourists
4 dead, 19 hurt in Pahalgam hotel blast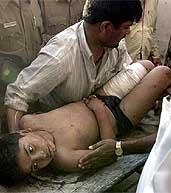 Srinagar, June 12
Four tourists, including an eight-year-old child, were killed and 19 injured when suspected militants hurled a grenade in a hotel in the main market of the tourist spot of Pahalgam in south Kashmir this afternoon.
Muhit, a boy from Ahmedabad, is transported into a hospital in Srinagar after he was injured in a grenade blast in a Pahalgam hotel on Saturday. — AFP photo

CAST YOUR VOTE
Should India send troops to Iraq?

SCIENCE & TECHNOLOGY
EDUCATION
HEALTH & FITNESS
FORUM
CAREER GUIDE
SPORTS
WOMEN
TRIBUNE CLASSIFIEDS
BRIDES WANTED
GROOMS WANTED
OTHERS
HOW TO PLACE ADVTS

Badal, Capt sink differences for SYL water

Chandigarh, June 12
Various political parties of Punjab here today resolved not to allow any injustice to be done with the state on the river waters and the SYL canal issue.


Punjab page: Rise above party politics to solve SYL issue: Gill

Capt Amarinder Singh and Mr Parkash Singh Badal shake hands at the all-party meeting in Chandigarh on Saturday.
— Tribune photo by Manoj Mahajan

Today in Women
THE TRIBUNE MAGAZINES
On Sundays

On Saturdays

Arjun sets up saffronisation test panel
New Delhi, June 12


As a first step towards decommunalising school syllabus, the Human Resource Development Ministry today constituted a three-member panel of eminent historians to review the history books introduced by the previous regime and suggest how the distortions in these can be removed.

Create milieu to avoid pain of riots: PM
New Delhi, June 12
Prime Minister Manmohan Singh here today said that the massacre of Sikhs in 1984 and the Gujarat riots were unfortunate and that an atmosphere should be created so that such painful incidents do not take place again.


In video (28k, 56k)
Let no Gujarat happen again: Vajpayee
Perspective: Manmohan became PM on merit and due to compulsions: Atwal
Delhi page: PM to inaugurate Sikh centre

Prime Minister Manmohan Singh pays his obeisance at Gurdwara Bangla Sahib in New Delhi on Saturday. — PTI photo
14 booked in jailbreak bid case
Amritsar, June 12
An Assistant Jail Superintendent and 13 others have been booked by the district police in connection with the alleged jailbreak bid in the high security Amritsar Central Jail here.
No troops for Iraq, says Natwar


Govt may review stand on troops for Iraq
June 12, 2004
President's Address passed without debate
June 11, 2004
Pranab bails out NDA
June 10, 2004
Chaos over tainted ministers' issue
June 9, 2004
Kalam condemns Gujarat violence
June 8, 2004
Natwar Singh assures Kasuri of continuing dialogue
June 7, 2004
Centre, EC move SC for vacating stay on RS poll
June 6, 2004
SC orders Centre to construct SYL Canal
June 5, 2004
Natwar rings up Kasuri
June 4, 2004
MPs back in LS with Benches swapped
June 3, 2004
Natwar proposes N-doctrine for India, China, Pak
June 2, 2004
India assures Pakistan on peace process
June 1, 2004