PUNJAB
HARYANA
JAMMU & KASHMIR
HIMACHAL
REGIONAL BRIEFS
NATION
OPINIONS
MAILBAG
BUSINESS
SPORTS
WORLD

Wednesday, June 16, 2004, Chandigarh, India
Updated at 3:00 am (IST)



Petrol, diesel, LPG to cost more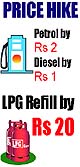 New Delhi, June 15
Ending days of suspense and hectic confabulations, the Centre today announced a hike of about Rs 2 per litre of petrol, Re 1 for diesel and Rs 20 for per cylinder of cooking gas even as the government left the prices of kerosene untouched.


In video (28k, 56k)

16.7 pc hike in coal prices

Budget on July 8

(28k, 56k)

BJP threatens stir against fuel price hike

Reconsider LPG price hike: CPI
CAST YOUR VOTE
Should Gujarat Chief Minister Narendra Modi resign following Vajpayee's criticism?

SCIENCE & TECHNOLOGY
EDUCATION
HEALTH & FITNESS
FORUM
JOBS & CAREER
SPORTS
WOMEN
TRIBUNE CLASSIFIEDS
BRIDES WANTED
GROOMS WANTED
OTHERS
HOW TO PLACE ADVTS
Plot to kill Modi
4 Lashkar activists gunned down
Ahmedabad, June 15
The police shot dead here early today four suspected terrorists, including two Pakistanis and a woman, who were allegedly plotting to kill Gujarat Chief Minister Narendra Modi. The four, three men and a woman, were gunned down on a road at Kotarpur on the outskirts of the city.
In video (28k, 56k)


Bodies of four Lashkar-e-Toiba militants lie on the ground after an encounter with the police in Ahmedabad on Tuesday morning.
— PTI photo
THE TRIBUNE MAGAZINES
On Sundays

On Saturdays

IN PASSING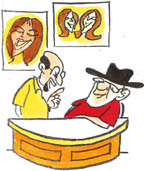 Good news. Our film is a smash hit. So far, there have been 15 clashes, 40 injured and 2 theatres burnt ...

by Sandeep Joshi
(Click to enlarge)



41 feared dead in 2 HP mishaps
Shimla, June 15
In two bus accidents in Himachal Pradesh today, 25 persons were feared killed in Kinnaur district and 16 died in Mandi district.
Fake enemy kills: videos allowed as evidence
Jodhpur, June 15
The military court recording summary evidence in Siachen "fake killings" case today witnessed legal wrangling over the significance of video shoots of an encounter.
Kiran Chaudhary, Mohsina figure in Cong RS list
New Delhi, June 15
Senior party functionaries R.K.Dhawan and Mohsina Kidwai figured in the list of Rajya Sabha candidates cleared by the Congress tonight.
Cong to revamp state units
New Delhi, June 15
At least a dozen state party units are expected to be recast when Congress president Sonia Gandhi revamps the party organisation in the coming days.
TN team to meet Karnataka CM
Chennai, June 15
The Tamil Nadu Government seems to be bracing up for a confrontation with the neighbouring newly-elected Karnataka Government over the release of Cauvery waters.
3 farmers killed, 25 hurt in clash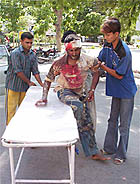 Chapra (Karnal), June 15
Three farmers were killed and 25 injured in a group clash between the farmers of Haryana and Uttar Pradesh adjoining the Yamuna here in Karnal district this afternoon following dispute over proprietary rights on irrigated land.


One of the injured farmers is helped on to a stretcher in Chapra village of Karnal district on Tuesday.

In Health & Fitness Today
BJP rallies behind Modi, ignores Vajpayee
June 15, 2004
India to join G-20 fight for farm subsidies
June 14, 2004
Ultras target tourists
June 13, 2004
Govt may review stand on troops for Iraq
June 12, 2004
President's Address passed without debate
June 11, 2004
Pranab bails out NDA
June 10, 2004
Chaos over tainted ministers' issue
June 9, 2004
Kalam condemns Gujarat violence
June 8, 2004
Natwar Singh assures Kasuri of continuing dialogue
June 7, 2004
Centre, EC move SC for vacating stay on RS poll
June 6, 2004