PUNJAB
HARYANA
JAMMU & KASHMIR
HIMACHAL
REGIONAL BRIEFS
NATION
OPINIONS
MAILBAG
BUSINESS
SPORTS
WORLD
Monday, August 2, 2004, Chandigarh, India
Updated at 3:00 am (IST)

Conflicting reports on hostage crisis
India has no confirmation of release
New Delhi, August 1
The 11-day-old Iraq hostages crisis remained unresolved from the Indian point of view following conflicting reports about whether the hostages had been released or not and two top officials of the Government of India telling The Tribune tonight that there was no confirmation on the release of the hostages.


Blockade off after hostage's kin appeal

Editorial: Anger in Una

Punjab page: Indian drivers being forced to work in Iraq.

Thousands of Indians "being detained" by US Army

Himachal page: Una blockade: some harass tourists, others come to rescue

CAST YOUR VOTE
Should India acquire nuclear submarines?

ILLEGAL CREMATIONS

EDUCATION
JOBS & CAREERS
HEALTH & FITNESS
FORUM
SCIENCE & TECHNOLOGY
SPORTS
WOMEN
TRIBUNE CLASSIFIEDS
BRIDES WANTED
GROOMS WANTED
OTHERS
HOW TO PLACE ADVTS

Sports page:
Lanka strangle India, lift Asia Cup

Sri Lanka captain Marvan Atapattu holds aloft the Asia Cup Trophy after Sri Lanka defeated India in the final at the R Premadasa Stadium on Sunday. Chasing Sri Lanka's score of 228 for nine, India fell short by 25 runs and were 203 for 9 at close.
— AFP photo
Marginal victory for developing nations at WTO
New Delhi, August 1
Developing countries, led by India and Brazil, have gained marginal victory at the WTO when the EU, the US and other developed countries agreed to sign the deal leading to slashing of billions of dollars in farm subsidies even though a date has yet to be fixed.
Non-compliance of MBBS admission schedule irks SC
New Delhi, August 1
Expressing displeasure over non-adherence to the time schedule for completing admissions to the MBBS course in government medical colleges, the Supreme Court has asked eight states, including Punjab, Maharashtra, Tamil Nadu and Karnataka, to state reasons for the lapse.
FORUM
Our new feature, Forum, provides our readers with an opportunity to express their views on vital issues facing the country. The new question being posed is:
"How should criminals be weeded out of the entire political system —Parliament, Legislative Assemblies, the government and political parties?"
Readers are invited to send their letters, not more than 150 words, to: Editor-in-Chief, The Tribune, Sector 29-C, Chandigarh, with the word 'Forum' mentioned on the envelope. The answers can also be e-mailed to: forum@tribunemail.com
H.K. Dua, Editor-in-Chief
THE TRIBUNE MAGAZINES
On Sundays

On Saturdays



CPM to protest hike in petro prices
New Delhi, August 1
The CPM said today that the coordination committee between the UPA and the Left parties had been "almost finalised".

Punjab, Haryana oppose concessions to hill states
Chandigarh, August 1
Many states, including Punjab and Haryana have disagreed with the Central Government on certain issues involving services tax.

Indo-Pak talks to come on track tomorrow
Islamabad, August 1
The Indo-Pak composite dialogue process will gather pace from next week.

Flash floods destroy Kothi bridge
One washed away, vehicles stranded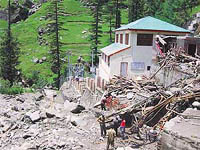 Kothi (Manali), August 1
Hundreds of vehicles and Army trucks remained stranded near the tiny village of Kothi, 13 km from here, north of Manali on the Manali-Leh Highway last night at about 12.25 am.

Newly constructed staff quarters at the 200-kilowatt micro hydel project at Kothi, near Manali, washed away by flash floods.
— Photo by M.C. Thakur


The Hostages crisis
August 1, 2004
Captors extend deadline
July 31, 2004
Pak hostages executed
July 30, 2004
Sonia does not meet Amarinder
July 29, 2004
Surplus Delhi, MP power for Punjab
July 28, 2004
Global Trust Bank to be merged with OBC
July 27, 2004
No power for industry in Haryana
July 26, 2004
Shibu Soren resigns
July 25, 2004
India, Pak vow to fight terror
July 24, 2004
India steps up efforts for release of hostages
July 23, 2004