PUNJAB
HARYANA
JAMMU & KASHMIR
HIMACHAL
REGIONAL BRIEFS
NATION
OPINIONS
MAILBAG
BUSINESS
SPORTS
WORLD
Saturday, August 14, 2004, Chandigarh, India
Updated at 3:00 am (IST)

Himachal cloudburst leaves two dead
Jagaatkhana (Kulu), August 13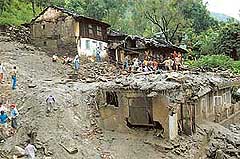 Living in the higher reaches, far from the reach of the impending fury of the Sutlej, they thought they were safe, but when a cloudburst hit Jagaatkhana village in the wee hours today, claiming two lives, they were caught unawares.
Rescue teams search for bodies buried under the debris of four houses damaged by cloud burst at Jagat-Khana in Kulu district of Himachal Pradesh on Friday. — Tribune photo by Anil Dayal

CAST YOUR VOTE
Is mentioning "able-bodied persons" in the proposed employment guarantee act discriminatory towards the disabled?

CHANDIGARH
Jalandhar
DELHI
EDUCATION
JOBS & CAREERS
HEALTH & FITNESS
FORUM
SCIENCE & TECHNOLOGY
SPORTS
WOMEN
TRIBUNE CLASSIFIEDS
BRIDES WANTED
GROOMS WANTED
OTHERS
HOW TO PLACE ADVTS
Flood fear stalks HP villages
Shimla, August 13
Panic caused by reports of a breach in the blockade which formed a lake on the Parchu in Tibet subsided to an extent as yet another day passed without any upheaval in the fast-flowing Sutlej.


Editorial: Tiding over the flood
Himachal page:

Villages placed in flood-warning zone

ITBP despatches 2 disaster control companies to HP
Quiet flows the Sutlej; no need to worry, say experts
Chandigarh/Rampur/Bhakra, August 13
"The situation along the Sutlej is quiet, cool and calm. There is nothing to worry", said Natpha Jhakri Hydel Project Director, Civil, Mr H.K. Sharma, after a review meeting at Rampur in Himachal today.


Edit page: Parchu cannot cause flash floods

THE TRIBUNE MAGAZINES
On Sundays

On Saturdays

IN PASSING

Sir, our archery team is calling from Athens. They want some tips from you.

by Sandeep Joshi
(Click to enlarge)
Myths, technology welcome Olympics back to Greece
Athens, August 13
A spectacular mix of ancient and modern that explored universal themes on a human scale, with profound depth of thought and joy of life that has characterised Greek civilization marked the three-hour opening ceremony as the first Olympic Games of the new millennium got underway in its ancient birthplace here tonight.

Sports page:
Drug drama rocks Greece

Indians to be seen in action on Saturday

Shooters gunning for medal

The Olympic rings are lit up as fireworks explode during the opening ceremony of the Athens Olympic Gameson Friday. — Reuters photo
Hostages safe in Iraq, says Union Minister
New Delhi, August 13
The Indian hostages in Iraq are safe and well looked after, Minister of State for External Affairs E Ahamed told The Tribune tonight from Calicut (Kerala).


Himachal page: Antaryami's kin begin fast
Emergency declared in Maldives
Colombo, August 13
A state of emergency was declared in the Maldives today, an Information Ministry spokesman said.
UPA Coordination panel to meet on Aug 18
New Delhi, August 13
Demands for reduction of the petro products' price hike, steps to curb rising prices in the wake of rising inflation and the cut in the EPF rate issue are expected to dominate the meeting of the UPA Coordination Committee scheduled here on August 18.


In video: Former Manipur CM meets PM. (28k, 56k)


Centre adopts wait-and-watch approach on Manipur


Dhananjoy faces gallows today, donates eyes, kidneys
Kolkata, August 13
Finding his death inescapable after a Division Bench of the Calcutta High Court rejected a petition seeking commutation of his death sentence, Dhananjoy Chatterjee, the rapist and killer of 14-year-old schoolgirl Hetal Parekh, today showed a novel gesture by donating his eyes and kidneys for the cause of humanity.
ILLEGAL CREMATIONS
In Sports Tribune today
Deluge anytime!
August 13, 2004
Stop terror influx, India tells Pak
August 12, 2004
POTA to be scrapped
August 11, 2004
Kargil PoWs return
August 10, 2004
20 trapped inside Parbati tunnel
August 9, 2004
Release of hostages any moment
August 8, 2004
Hostages may be freed by Sunday
August 7, 2004
Ultras gun down nine CRPF men
August 6, 2004
4 more meet watery grave
August 5, 2004
Torrential rain claims 8 lives
August 4, 2004