PUNJAB
HARYANA
JAMMU & KASHMIR
HIMACHAL
REGIONAL BRIEFS
NATION
OPINIONS
MAILBAG
BUSINESS
SPORTS
WORLD
Monday, August 16, 2004, Chandigarh, India
Updated at 3:00 am (IST)

Manmohan moots code of conduct for parties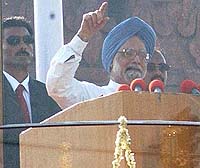 New Delhi, August 15
Prime Minister Manmohan Singh today put water management at the epicentre of the new development paradigm and obliquely cautioned that the ongoing river-water disputes among state governments could turn out to be potentially divisive.

The Prime Minister, Dr Manmohan Singh, addresses the nation from the ramparts of the Red Fort on the occasion of the 58th Independence Day in Delhi on Sunday. — PTI photo


In video (28k, 56k)

CAST YOUR VOTE
Should AIDS information centres for students be encouraged?

CHANDIGARH
Jalandhar
DELHI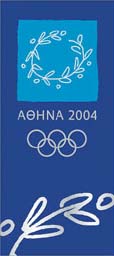 EDUCATION
JOBS & CAREERS
HEALTH & FITNESS
FORUM
SCIENCE & TECHNOLOGY
SPORTS
WOMEN
TRIBUNE CLASSIFIEDS
BRIDES WANTED
GROOMS WANTED
OTHERS
HOW TO PLACE ADVTS
Editorial: Ethics in politics

Business page: PM's I-Day vow: more jobs

Nation page: Kalam's tribute to soldiers

Sonia renews resolve to fulfil promises

World page: Indians abroad celebrate I-Day
17 children killed in Assam blast
Guwahati, August 15
At least 17 children, including nine girls, were killed and 40 others injured in a bomb explosion at an official Independence Day function in Assam's Dhemaji town today.


Nation page: PM expresses grief at Assam blast

14 hurt in blast at I-Day function in J&K


In video (28k, 56k)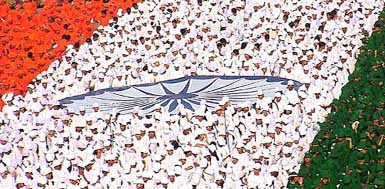 Schoolchildren dressed in the colours of the National Flag take part in the Independence Day function at the Red Fort in Delhi on Sunday. — Tribune photo by Mukesh Aggarwal


ILLEGAL CREMATIONS
THE TRIBUNE MAGAZINES
On Sundays

On Saturdays


Chanu misses medal by whisker
Athens, August 15
For the second successive day, Indian women weightlifters missed their date with the Olympic medal. If yesterday Kunjarani lost the medal race to finish fifth in the 48kg category, it was turn of Sanamacha Chanu to miss the bronze in 53kg category today.


Sports page: Hockey: India no match for mighty Dutch

8 killed in Himachal accident
Shimla, August 15
As many as eight persons were killed and seven injured when a utility vehicle fell into a nullah from the road bridge, near Hatkoti temple, this afternoon.
Central team visits Parchu site
Situation not alarming
Shimla, August 15
With the Chinese authorities asserting that allowing water to flow out in a natural way from the huge lake formed in Tibet due to blockage of the Parchu rivulet is the safest option, the water body is likely to become a permanent feature and a matter of perpetual concern for the state.


UT, Punjab celebrate I-Day in 'high spirits'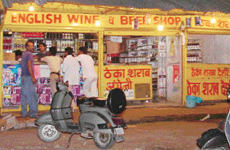 Chandigarh, August 15
It was real celebration time for Bacchus lovers of Chandigarh who would not know what way to thank the UT Administration for the wonderful I-Day gift it has given them.
A liquor vend of Hallomajra in Chandigarh which was opened on I-Day after 7 pm following orders from the UT Excise Department.
— Tribune photo by Parvesh Chauhan

President for overhaul of education system
August 15, 2004
Himachal cloudburst leaves two dead
August 14, 2004
Deluge anytime!
August 13, 2004
Stop terror influx, India tells Pak
August 12, 2004
POTA to be scrapped
August 11, 2004
Kargil PoWs return
August 10, 2004
20 trapped inside Parbati tunnel
August 9, 2004
Release of hostages any moment
August 8, 2004
Hostages may be freed by Sunday
August 7, 2004
Ultras gun down nine CRPF men
August 6, 2004