PUNJAB
HARYANA
JAMMU & KASHMIR
HIMACHAL
REGIONAL BRIEFS
NATION
OPINIONS
MAILBAG
BUSINESS
SPORTS
WORLD
Thursday, August 19, 2004, Chandigarh, India
Updated at 3:00 am (IST)

Petrol, diesel prices may fall
Govt cuts duties on petro products
New Delhi, August 18
Finance Minister P. Chidambaram today announced the slashing of customs and excise duty on diesel, petrol, kerosene and LPG to provide a major relief to oil companies. They have been pressing for tax relief to maintain the prevailing oil prices after a spurt in international crude oil prices which are currently prevailing at $ 46 a barrel.




CAST YOUR VOTE
Do you think that cable operators' strike is fair?

CHANDIGARH
Jalandhar
DELHI
EDUCATION
JOBS & CAREERS
HEALTH & FITNESS
FORUM
SCIENCE & TECHNOLOGY
SPORTS
WOMEN
TRIBUNE CLASSIFIEDS
BRIDES WANTED
GROOMS WANTED
OTHERS
HOW TO PLACE ADVTS
A Tribune Special
Manipur may come under Central rule
New Delhi, August 18
Manipur Governor S. Sidhu and Intelligence Bureau chief Ajit Duval are believed to have recommended that the Centre take a series of harsh measures, including the imposition of President's rule, in the troubled state.
Govt keen to resolve Manipur issue
New Delhi, August 18
The Centre today indicated that it was ready to take "more measures" to keep the oil prices under check. Finance Minister P. Chidambram told UPA Coordination Committee meeting, held at the residence of Prime Minister Manmohan Singh, of the steps taken by the government to curb the rising oil prices in view of the spiralling prices of crude.


Manipur bandh hits life


People block a road in Imphal on Wednesday by burning trees and demanding the repeal of AFPSA from Manipur state. — PTI photo
Left fails to put united face at UPA meeting
New Delhi, August 18
The Left parties today failed to present a united face on the issue of attending the UPA meet, clearly indicating a rift within the so-called coherent combination.
882 illegal colonies in Punjab
Colonisers face arrest, detention
Mohali, August 18
In a move which will affect thousands of families and their residential properties located in illegal housing colonies in the state, the Punjab Urban Planning and Development Authority has provided the Punjab police with a list of 882 illegal colonies spread across Punjab for strict action against the colonisers.

Chandigarh page:

CHB issues notices to 900 flat owners

General Manager of PUDA arrested
THE TRIBUNE MAGAZINES
On Sundays

On Saturdays

IN PASSING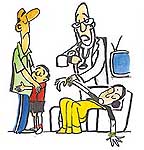 No need to worry. The moment cable blackout is over, she will spring back to life.

by Sandeep Joshi
(Click to enlarge)
SC defers order on Punjab plea on SYL
New Delhi, August 18
The Supreme Court today deferred its order on Punjab's review petition against its judgement in the Sutluj Yamuna Link Canal case, directing the Centre to complete the unfinished portion of the canal.
50 feet breach in Yamuna Canal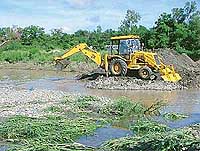 Yamunanagar, August 18
A breach of about 50 feet in the Western Yamuna Canal flooded several acres in the Chhacchrouli area in the wee hours today.

A portion of the Western Yamuna Canal, which was washed away on Wednesday morning, being repaired.

SC commutes death sentence in minor's rape, murder case
New Delhi, August 18
The Supreme Court has commuted the death sentence of a convict from Maharashtra in the rape and murder of a four-year-old girl within a week of it rejecting the plea of Kolkata's Dhananjoy Chatterjee in an almost identical case.


Paes-Bhupathi makes semis
Athens, August 18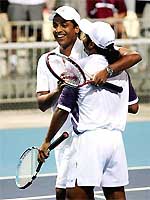 Leander Paes and Mahesh Bhupathi stormed their way into the men's doubles semifinals in the Olympic Games tennis tournament today to bring belated cheer to the Indian camp which was confronted by reverses on all other fronts.


Olympic stories

India's Mahesh Bhupathi (L) and Leander Paes celebrate after defeating Zimbabwe's Wayne Black and Kevin Ullyet 6-4, 6-4 in the men's doubles quarterfinal of the Athens Olympics on Wednesday. — AFP photo

ILLEGAL CREMATIONS
Reopen riot cases, SC tells Gujarat
August 18, 2004
Tainted ministers' issue rocks Parliament
August 17, 2004
Manmohan moots code of conduct for parties
August 16, 2004
President for overhaul of education system
August 15, 2004
Himachal cloudburst leaves two dead
August 14, 2004
Deluge anytime!
August 13, 2004
Stop terror influx, India tells Pak
August 12, 2004
POTA to be scrapped
August 11, 2004
Kargil PoWs return
August 10, 2004
20 trapped inside Parbati tunnel
August 9, 2004