PUNJAB
HARYANA
JAMMU & KASHMIR
HIMACHAL
REGIONAL BRIEFS
NATION
OPINIONS
MAILBAG
BUSINESS
SPORTS
WORLD

Monday, August 30, 2004, Chandigarh, India
Updated at 3:00 am (IST)

Pakistan says no to extradition treaty
New Delhi/ Islamabad, August 29
Pakistan has shot down an Indian proposal for an extradition treaty between the two countries, saying the time has not arrived for such a step. India had mooted the proposal during the Home Secretary-level talks in Islamabad earlier this month, sources said.


CAST YOUR VOTE
Is India doing enough to get the hostages released in Iraq?

EDUCATION
JOBS & CAREERS
HEALTH & FITNESS
FORUM
SCIENCE & TECHNOLOGY
SPORTS
MISCELLANY
TRIBUNE CLASSIFIEDS
Editor's Column
Between war and peace
For Sri Lanka it's a long trek
by H.K.Dua, who was recently in Colombo
There is neither war nor peace in Sri Lanka. It is a peculiar situation which leaves somewhat an uncomfortable feeling.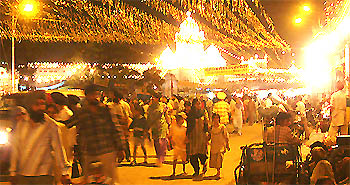 Devotees head to the Golden Temple through the glittering main entrance to pay obeisance. A large number of devotees have descended on Amritsar in view of the celebrations of the 400th year of installation of Guru Granth Sahib. — Photo by Rajiv Sharma
7,000 cops deployed in Amritsar
Amritsar, August 29
Stung by criticism of high-handedness, senior police officers, in charge of the security arrangements, have urged the police personnel on duty to guide devotees with a helpful attitude and a human face so that no one feels harassed.

More Quadricentennial celebrations stories on Punjab page

World page: Book on Guru Granth Sahib released
ILLEGAL CREMATIONS
BRIDES WANTED
GROOMS WANTED
OTHERS
HOW TO PLACE ADVTS
THE TRIBUNE MAGAZINES
On Sundays

On Saturdays


100 women storm top cop's office
Protest against militants' arrest
Hyderabad, August 29
Over 100 Muslim women, protesting against the arrest of eight Muslim youths allegedly having links with the militant outfit Lashkar-e-Toiba, today forced their way into the high-security office of the City Police Commissioner here and were taken into custody.
Communal clash at Mehsana; 15 hurt
Ahmedabad, August 29
At least 15 persons were injured, two of them seriously, in a group clash between two communities at the remote Bakhar village of Unjha taluka in Mehsana district.


Sports page:
Olympics leave their home, head for Beijing

More stories on Sports page


Fireworks illuminate the sky above a symbolised wheat field in the Olympic Stadium during the closing ceremony of the Olympic Games in Athens on Sunday.
— Reuters
Agni-II missile test-fired
Kerala CM Antony resigns



Arunachal CM joins Cong with Cabinet
August 29, 2004
Bomb attacks, arson in Maharashtra; 18 hurt
August 28, 2004
Budget passed without debate
August 27, 2004
Judicial remand for Uma
August 26, 2004
Maharashtra goes to polls on Oct 13
August 25, 2004
Uma quits as MP CM
August 24, 2004
24 ministers 'resign' in Madhya Pradesh
August 23, 2004
Coalitions inevitable, admits AICC
August 22, 2004
BJP in a spot over Uma Bharti
August 21, 2004
Rise in terror influx
August 20, 2004