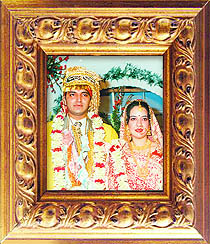 Prerana Trehan reports on the fastest-growing, sunshine industry

It is a staggering Rs 50,000 crore industry, growing at a robust 25 per cent. And no, it has nothing to do with microchips and motherboards. It is, instead, about diamonds and dreams.

Madonna's new avatar
Simon Price
She's as subtle as a half-brick to the head, of course. Madonna, wearing military fatigues and a black beret, surveys her troops. Stomping along a suspended walkway over the heads of the audience while their leader sings American Life, they include a man in stereotypical Muslim attire, and a Catholic stripper nun.
Hip hop through Austria
Priyanka Singh and Poonam Batth describe a summer sojourn in Austria
Rolling snow-capped mountains, endless alpine meadows, picturesque valleys, and blue lakes`85 the other name is Austria. While the cities have a lure of their own, the countryside just leaves you taken. We map the land.
Ideal sci-fi thriller
Ervell E. Menezes
Enter the world of robots. The year is 2035, the place Chicago where robots are an everyday household item, they do the laundry, fly our aeroplanes and watch our kids.
Sholay still sets the screen ablaze
V. Gangadhar on how the magic of Sholay, re-released recently in Mumbai, endures. The movie that captured a nation's imagination still evokes a buzz even after 25 years.
Lamington Road, the hub of the Hindi film industry, is humming. There are queues outside Minerva theatre which proudly displays the 'Housefull'. The old, unforgettable Sholay is back—brand new, swanky and spunky, with a new sound system in an eye-catching new print.
Phir Milenge: Director Revathy's second coming

Revathy's interview
An actress who acted 95 films in five languages, Revathy's social consciousness finds a voice in her directorial venture Phir Milenge, which tackles the sensitive issue of HIV infection. Revathy who hit the headlines with her very first film as a director, Mitre — My friend, comes across as a disarmingly simple person with a no-nonsense attitude in an interview with Ranjita Biswas.

Arup Chanda writes
Asha Menon, popularly known as Revathy is a film director with courage of conviction. Not only is she one of the most popular actresses in South India — she has starred in 95 films in the South — she is also turning out to be a successful director whose films have a message for the masses.