PUNJAB
HARYANA
JAMMU & KASHMIR
HIMACHAL
REGIONAL BRIEFS
NATION
OPINIONS
MAILBAG
BUSINESS
SPORTS
WORLD

Thursday, September 30, 2004, Chandigarh, India
Updated at 3:00 am (IST)

Public servants among 190 in CBI net
Nationwide raids yield jewellery, cash worth 9 cr
New Delhi, September 29
In a major swoop the CBI today carried out nationwide raids against public servants and registered cases against several of them, including a former project Director of the National Highways Authority of India, against whom Satyendra Dubey had levelled allegations of irregularities.
CAST YOUR VOTE
Should Sachin Tendulkar play the first Test against Australia?

EDUCATION
JOBS & CAREERS
HEALTH & FITNESS
FORUM
SCIENCE & TECHNOLOGY
SPORTS
WOMEN
TRIBUNE CLASSIFIEDS
BRIDES WANTED
GROOMS WANTED
OTHERS
HOW TO PLACE ADVTS
Ranbir elected BCCI chief
Sharad Pawar cries foul
Kolkata, September 29
After a day-long drama, the BCCI AGM was ultimately held around after 5 p.m. to elect the BCCI board and the president.

Zee gets shot in the arm
Sports page:
Pawar 'a victim of foul play'
Ranbir refutes Pawar charge
Stay on Dalmiya as Patron-in-Chief
Hunger strike at Board AGM venue


Newly elected BCCI President Ranbir Singh Mahendra.
Cabinet okays panel for backward sections
GoM to look into FDI in print media
New Delhi, September 29
The Union Cabinet today approved the setting up of a National Commission which will recommend measures for uplift of the social and economically backward classes among religious and linguistic minority communities, including reservations in education and government jobs.


Nation: Bring PM under Lokpal's purview, says Manmohan



THE TRIBUNE MAGAZINES
On Sundays

On Saturdays

IN PASSING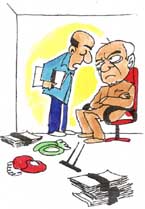 Sir, we have removed the table as part of the austerity drive.

by Sandeep Joshi
(Click to enlarge)
Cong leader shot in Anantnag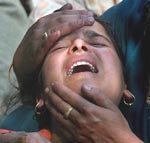 Srinagar, September 29
At least four persons, including a Congress leader, have been killed in separate incidents in the Kashmir valley since yesterday.
A relative of Mohammed Yusuf Bhat wails during his funeral at his residence in Mattan on Wednesday.
— Tribune photo by Amin War

No Purulia-type mission: MEA
Nepal-bound plane lands at Ahmedabad
New Delhi, September 29
The Ministry of External Affairs has rubbished claims that a cargo plane hired by the US Government and carrying arms and ammunition for the Nepalese Government was on a Purulia-type mission to India.
3 lifters, coach get life ban
New Delhi, September 29
The Indian Olympic Association has imposed a life ban on three tainted weightlifters—Sanamacha Chanu, Pratima Kumari and Sunaina—and national coach Pal Singh Sandhu.


Sanamacha Chanu and Pratima Kumari
BJP threatens to stall winter session of Parliament
New Delhi, September 29
The BJP today warned the UPA government that the coming winter session of Parliament would be stalled as "destructive government" could not expect "constructive opposition".


Pak nod for 500-room serai at Nankana Sahib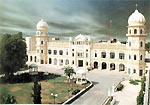 Amritsar, September 29
The Government of Pakistan today gave the latest report on the situation at Nankana Sahib to the Shiromani Gurdwara Prabandhak Committee (SGPC) on telephone.


World page: Attack on Sikh shrine shameful: UK Muslims

J&K page: Gurdwara attack: Sikhs hold protest rally

Nation: Pak deplores attack on Gurdwara Nankana Sahib
In Forum today
Sri Guru Granth Sahib - Quadricentenary Celebrations
Athens 2004
Illegal Cremations: NHRC List
G. S. Tohra (1924—2004)
Patiala Heritage Week
Turbans
Chandigarh is 50
EARLIER FEATURES
Diesel to cost more from Oct 1
September 29, 2004
Talks with Pak to be carried forward
September 28, 2004
PM ends US visit
September 27, 2004
We have an open mind on Kashmir, says PM
September 26, 2004
PM, Pervez address Kashmir issue
September 25, 2004
Peace talks with Pak to continue
September 24, 2004
PM for expanding Security Council
September 23, 2004
Bush lauds India's stand on Pak
September 22, 2004
Manmohan Singh, Blair vow to fight terror
September 21, 2004
Reforms to continue, says PM
September 20, 2004
Weed out graft from judiciary
September 19, 2004