PUNJAB
HARYANA
JAMMU & KASHMIR
HIMACHAL
REGIONAL BRIEFS
NATION
OPINIONS
MAILBAG
BUSINESS
SPORTS
WORLD

Tuesday, October 5, 2004, Chandigarh, India
Updated at 3:00 am (IST)

Patil favours talks with N-E militants
Guwahati, October 4
Declaring that a multi-pronged strategy was being worked out to check insurgency in the North East, Union Home Minister Shivraj Patil today said doors for talks with militants were always open for negotiations but it should be unconditional.
Editorial: Not by force
CAST YOUR VOTE
Is India becoming a dumping ground for foreign waste?

FORUM
EDUCATION
JOBS & CAREERS
HEALTH & FITNESS
SCIENCE & TECHNOLOGY
SPORTS
WOMEN
TRIBUNE CLASSIFIEDS
BRIDES WANTED
GROOMS WANTED
OTHERS
HOW TO PLACE ADVTS

| | |
| --- | --- |
| | |
| | BSF personnel patrol the fenced border with Bangladesh at Lankamura village near Agartala. Security has been beefed-up in the state following increased insurgent attacks in the North-East. — PTI photo |
6 shot in upper Assam
Guwahati, October 4
Violence continued to rock Assam for the third consecutive day as NDFB militants shot dead six persons early today in upper Assam. The death toll in the state in the past 72 hours has gone upto 39 in 19 attacks perpetrated by NDFB militants, backed by ULFA.
In Education Tribune today

THE TRIBUNE MAGAZINES
On Sundays

On Saturdays

IN PASSING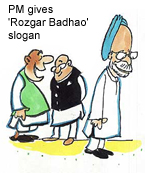 Is he going to start 'Rozgar Badhao' with Cabinet expansion?

by Sandeep Joshi
(Click to enlarge)
Govt hands over Tehelka probe to CBI
New Delhi, October 4
Taking a proactive stance against the belligerent Opposition to put it on defensive, the UPA government today decided to hand over the investigation in the Tehelka case to the CBI and scrap the Phukan Commission inquiring into it, saying that the appointment of the panel by the Vajpayee Ministry was an attempt to "shield various personalities" exposed in the sting operation.
BJP condemns scrapping of Phukan Commission
New Delhi, October 4
The BJP today condemned the decision of the UPA government to scrap the Phukan Commission of Inquiry which was probing into the Tehelka expose and termed the move as "politically motivated".
Left, UPA on collision course
New Delhi, October 4
The Left and the UPA government again appear to be heading towards a collision course with the government reportedly considering to scrap Press Note 18 — a long standing circular aimed at protecting domestic industry.


Supreme Court stays trial of Badals
New Delhi, October 4

In a major relief to former Punjab Chief Minister Parkash Singh Badal in the Rs 78 crore disproportionate assets (DA) case, the Supreme Court today stayed the trial proceedings against him and his son

| | |
| --- | --- |
| | |
| Parkash Singh Badal | Amarinder Singh |

Sukhbir Singh and referred their petition to a Constitution Bench, saying it has raised an "important" question of law whether prior sanction for prosecuting a public servant was mandatory.
Badal welcomes SC stay on cases

Badal to present SC order in Ropar court
Bank employees robbed of Rs 14 lakh
Jhajjar, October 4
In a broad daylight robbery, two employees of Central Cooperative Bank were robbed of Rs 14 lakh by two persons at gun-point outside the bank in Beri town of the district today.


Pak journalists face Kashmiri Pandits' ire
Jammu, October 4
The Pakistani media delegation, on its first visit to Jammu and Kashmir in 57 years, today faced the ire of the displaced Kashmiri Pandits when the members of the team visited one of the migrant camps near here.


In video (28k, 56k)

Editorial: Let them see

Jobs & Career


Sri Guru Granth Sahib - Quadricentenary Celebrations
Athens 2004
Illegal Cremations: NHRC List
G. S. Tohra (1924—2004)
Patiala Heritage Week
Turbans
Chandigarh is 50
EARLIER FEATURES
Fresh blasts rock Assam; 12 killed
October 4, 2004
Terror strikes in North-East
October 3, 2004
CBI to probe Tehelka scam
October 2, 2004
Foreign experts to go
October 1, 2004
Public servants among 190 in CBI net
September 30, 2004
Diesel to cost more from Oct 1
September 29, 2004
Talks with Pak to be carried forward
September 28, 2004
PM ends US visit
September 27, 2004
We have an open mind on Kashmir, says PM
September 26, 2004
PM, Pervez address Kashmir issue
September 25, 2004