PUNJAB
HARYANA
JAMMU & KASHMIR
HIMACHAL
REGIONAL BRIEFS
NATION
OPINIONS
MAILBAG
BUSINESS
SPORTS
WORLD
Wednesday, October 6, 2004, Chandigarh, India
Updated at 3:00 am (IST)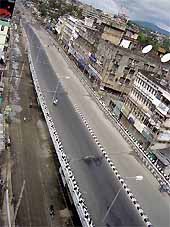 10 killed in Assam
N-E bandh hits life
Guwahati, October 5
At least 10 persons were killed and 18 injured, some of them critically, when suspected NDFB militants indiscriminately fired upon market-goers at Bilashi Para in Dhubri district today.

A view of the deserted Bishnu Ram Medhi flyover in Guwahati on Tuesday during the 12-hour bandh called by various student organisations protesting the recent spate of violence in the region. — PTI photo


Govt unlikely to accept US offer of FBI help

Manorama case: Army moves HC

Congress flays Advani's remarks
CAST YOUR VOTE
Is it right to have pre-conditions for talks with NE militants?

FORUM
EDUCATION
JOBS & CAREERS
HEALTH & FITNESS
SCIENCE & TECHNOLOGY
SPORTS
WOMEN
TRIBUNE CLASSIFIEDS
BRIDES WANTED
GROOMS WANTED
OTHERS
HOW TO PLACE ADVTS

SC stays trial of three SAD leaders
New Delhi, October 5
The Supreme Court has stayed the trial court proceedings in corruption cases against two former Punjab ministers and an MLA, all SAD leaders.


Punjab page: SC stay not last word on Badal: CM

12 missiles found in Bulandshahr
Bulandshahr, Ghaziabad, October 5
The police today recovered 12 suspected anti-aircraft missiles from a roadside thicket under the Arnia area in Bulandshahr.


Delhi page: Anti-tank rockets and missiles found

FORUM
Our new feature, Forum, provides our readers with an opportunity to express their views on some of the vital issues facing the country. The new question being posed is:
"How to stop female foeticide?"
Readers are invited to send their letters, not more than 150 words, to:
The Editor-in-Chief, The Tribune, Sector 29-C, Chandigarh, with the word 'Forum' mentioned on the envelope. The answers can also be e-mailed to:
[email protected]
— H.K. Dua
(Editor-in-Chief)

THE TRIBUNE MAGAZINES
On Sundays

On Saturdays

3 miniature paintings disappear from Quila Mubarak
Patiala, October 5
Three priceless miniature paintings have gone missing from a painted chamber of the "Ranwas" building of the Quila Mubarak complex in the city.
Pappu Yadav sent to Beur Jail
Patna, October 5
RJD candidate for the byelections to the Madhepura Lok Sabha constituency, Rajesh Ranjan, alias Pappu Yadav, was today sent to the high-security Beur Jail after he surrendered before the court of the designated CBI Judge.


In video (28k, 56k)


A dazzling display of indigenously developed advanced light helicopters during a formation flight at Air Force base, Palam, in New Delhi on Tuesday during a full-dress rehearsal of the 72nd anniversary of the Indian Air Force to be observed on October 8. — PTI photo
Reopening of '84 riot cases demanded
Ludhiana, October 5
The Danga Peerit Welfare Association, an organisation of victims of November 84 anti-Sikh riots, in Delhi and other parts of the country has demanded that the cases relating to these riots be reopened again as was being done in the case of Godhra riots in Gujarat.


"Bride and Prejudice" premiere dazzles London
London, October 5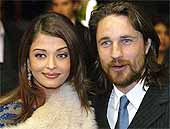 Exotic fairy light garlands and Indian drummers in traditional tunics have brought Bollywood to the UK with the world premiere of ''Bride and Prejudice'', an adaptation of Jane Austen's classic tale.

The star of 'Bride and Prejudice', Aishwarya Rai, with co-star Martin Henderson at the film's premiere in London on Monday. — AP/PTI photo

In Health & Fitness today


Sri Guru Granth Sahib - Quadricentenary Celebrations
Athens 2004
Illegal Cremations: NHRC List
G. S. Tohra (1924—2004)
Patiala Heritage Week
Turbans
Chandigarh is 50
EARLIER FEATURES
Patil favours talks with N-E militants
October 5, 2004
Fresh blasts rock Assam; 12 killed
October 4, 2004
Terror strikes in North-East
October 3, 2004
CBI to probe Tehelka scam
October 2, 2004
Foreign experts to go
October 1, 2004
Public servants among 190 in CBI net
September 30, 2004
Diesel to cost more from Oct 1
September 29, 2004
Talks with Pak to be carried forward
September 28, 2004
PM ends US visit
September 27, 2004
We have an open mind on Kashmir, says PM
September 26, 2004