PUNJAB
HARYANA
JAMMU & KASHMIR
HIMACHAL
REGIONAL BRIEFS
NATION
OPINIONS
MAILBAG
BUSINESS
SPORTS
WORLD
Monday, November 1, 2004, Chandigarh, India
Updated at 3:00 am (IST)

No increase in petrol, diesel prices
New Delhi, October 31
Amidst speculations that the crude oil prices in the international market might dip after the US Presidential elections, the UPA government today deferred its decision on the oil price hike as demanded by petroleum firms.
CAST YOUR VOTE
Should more Indo-Pak sports events be encouraged?

FORUM
EDUCATION
JOBS & CAREERS
HEALTH & FITNESS
SCIENCE & TECHNOLOGY
SPORTS
WOMEN
TRIBUNE CLASSIFIEDS
BRIDES WANTED
GROOMS WANTED
OTHERS
HOW TO PLACE ADVTS
Demonstration by riot victims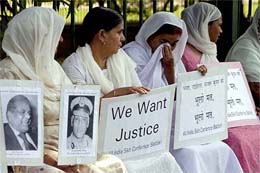 New Delhi, October 31
Two decades have passed, but justice seems to elude the victims of the 1984 anti-Sikh riot. They demonstrated in the Capital today, demanding punishment to those involved in the massacre and compensation to the children of those who lost their loved ones.
Women members of the All-India Sikh Conference hold a demonstration in New Delhi on Sunday demanding justice for the victims of the anti-Sikh riots of 1984. — PTI photo


Al-Qaida plans attack on UK
London, October 31
Al-Qaida terrorists are planning attacks against the British military bases, a media report quoting a classified British intelligence document said.


World page: Laden spectre stalks Bush, Kerry
S.P. Tyagi to be new IAF chief
New Delhi, October 31
The government today announced to appoint Air Marshal Shashindra Pal Tyagi, currently Air Officer Commanding-in-Chief (AOC-in-C), Western Air, Command (WAC) as the next Chief of Air Staff.
THE TRIBUNE MAGAZINES
On Sundays

On Saturdays

Attack on Omar: probe indicates security lapse
New Delhi, October 31
A probe into the militant attack on National Conference President Omar Abdullah in Anantnag has indicated lapses in adherence to security norms for the former Union Minister, a Z category protectee.
5 of family commit suicide
Amritsar, October 31
Five members of a family committed suicide in the busy Chowk Mohni, near the Golden Temple, here today. Before the act they scribbled on the walls of a room their grievances against certain "cruel persons", including police officials, because of whom they had been "forced" to take the extreme step.
Five farmers commit suicide
Karimnagar (AP), October 31
Five debt-ridden farmers have committed suicide in Karimnagar district after their crops failed, official sources said today. — PTI


Lohan khap proposes talks, reform
Narnaund, October 31

Hundreds of representatives from several villages of Lohans attended a Lohan khap mahapanchayat here today. The panchayat had been called to resolve the issue of the proposed marriage of a Lohan girl to a Kadyan boy.
Mr Pratap Singh Lohan, who has proposed marriage of his daughter to a Kadyan boy at Jakholi village, speaks at a khap mahapanchayat at Narnaund village, 55 km from Hisar, on Sunday. — Photo by Mehta

Sri Guru Granth Sahib - Quadricentenary Celebrations
Athens 2004
Illegal Cremations: NHRC List
G. S. Tohra (1924—2004)
Patiala Heritage Week
Turbans
Chandigarh is 50
EARLIER FEATURES
Shinde is Andhra Governor
October 31, 2004


Deshmukh to be CM
October 30, 2004


Maratha lobby averse to Shinde as CM
October 29, 2004


Cong to head govt in Maharashtra
October 28, 2004


Musharraf's new Kashmir formula
October 27, 2004


NCP defers decision on Congress proposal
October 26, 2004


Omar, Farooq survive bomb attack
October 25, 2004
Final decision likely today
October 24, 2004
Decide turban issue by Nov 5, French court tells school
October 23, 2004
Centre ready for talks with Bodos
October 22, 2004