PUNJAB
HARYANA
JAMMU & KASHMIR
HIMACHAL
REGIONAL BRIEFS
NATION
OPINIONS
MAILBAG
BUSINESS
SPORTS
WORLD
Friday, November 26, 2004, Chandigarh, India
Updated at 3:00 am (IST)

Another rail link with Pakistan on the anvil
New Delhi November 25
A day after India and Pakistan agreed to continue the peace process, a second rail link between the two countries was announced today as part of further confidence-building measures.


World page: No takers for General's Kashmir formula

Special article: New Kashmir idea

CAST YOUR VOTE
Can the cutback in LPG price be sustained over the long run?

FORUM
EDUCATION
JOBS & CAREERS
HEALTH & FITNESS
SCIENCE & TECHNOLOGY
SPORTS
WOMEN
TRIBUNE CLASSIFIEDS
BRIDES WANTED
GROOMS WANTED
OTHERS
HOW TO PLACE ADVTS

Rail freight on coal, iron ore hiked
New Delhi, November 25
The Railways have decided to increase the freight rates for coal, iron ore and some other items from November 27 to mop up Rs 400 crore for the current year in a bid to partially offset the additional burden on account of hike in the prices of diesel and steel.


The Tribune wishes a happy Gurpurb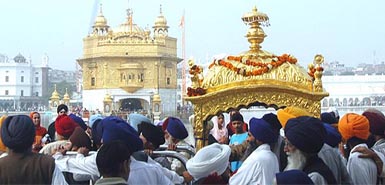 Guru Granth Sahib is taken out in a golden palanquin in a procession on the eve of the 535th birth anniversary of Guru Nanak Dev at the Golden Temple complex in Amritsar on Thursday. — ANI
World page: Bush greets Sikhs
Nation page: Kalam, PM greet nation on Gurpurb
Ludhiana page: Nepal releases Rs 250 coin to mark 400 years of Granth Sahib
In Science & Technology today
THE TRIBUNE MAGAZINES
On Sundays

On Saturdays


Five killed as buses collide
Jalandhar, November 25
As many as five persons were killed and over 30 injured, some of them seriously, when two Jammu and Kashmir Transport Corporation buses collided at Pathankot Chowk here today.
Pak hopes to get F-16s
London, November 25
Pakistan hopes to finalise purchase of 18 to 25 F-16 multi-role fighter aircraft from the USA during the first half of next year, a leading defence weekly reported today.
HC declares Trinamool bandh illegal
Our Correspondent
Kolkata, November 25
The Calcutta High Court today declared the Bangla bandh called by the Trinamool Congress on December 3 "illegal", warning that the court would not hesitate to "derecognise" the party if it did not refrain from observing the bandh.
Seer issue: PM writes to Jaya
New Delhi, November 25
The BJP's belligerent campaign against the arrest of Kanchi Shankaracharya Jayendra Saraswati today forced the UPA government to break its silence on this sensitive issue.


Nation page: Plea to probe seer's arrest dismissed

Satyagraha for seer's release on Dec 5
Golden hearts to the rescue of the underprivileged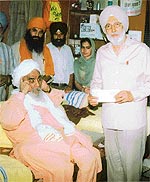 Chandigarh, November 25
This is the story of people with golden hearts which beat for the underprivileged and less fortunate sons of the soil. The tale begins from the Yadavindra College of Engineering, a brainchild of Mr S.S. Boparai, Vice-Chancellor of Punjabi University.

Sant Baba Ajit Singh Hansaliwala presents a cheque to Mr Boparai, VC of Punjabi University, Patiala.

India, Pak disagree on core issues
November 25, 2004


Natwar, Aziz to go on with talks
November 24, 2004


Seer remanded in judicial custody
November 23, 2004


PM invites ULFA for talks
November 22, 2004
Include Hurriyat in talks, says Pak
November 21, 2004
Seer remanded in police custody
November 20, 2004
Recruitment ban in J&K to go: PM
November 19, 2004

PM promises a new Kashmir
November 18, 2004

Militants kill 12 in J&K ahead of PM's visit
November 17, 2004

NDA seeks peaceful solution of Ayodhya
November 16, 2004

Aziz to discuss Kashmir during visit
November 15, 2004

Stampede at Delhi railway station
November 14, 2004