PUNJAB
HARYANA
JAMMU & KASHMIR
HIMACHAL
REGIONAL BRIEFS
NATION
OPINIONS
MAILBAG
BUSINESS
SPORTS
WORLD
Monday, December 13, 2004, Chandigarh, India
Updated at 3:00 am (IST)
Hurriyat leaders ready to adjust
Kathmandu, December 12
Leaders of separatist groups in India and Pakistan who want the disputed Kashmir region to be independent of both countries, said here today that they would be flexible in their negotiations on the issue. Representatives from political parties and rights organisations in India and Pakistan have been brought together at the conference to start a dialogue on a people-to-people basis for a peaceful resolution of the Kashmir issue.


Editor's Column
Autonomy for Kashmir
It's better not to delay it further
by H. K. Dua
With the militants having unleashed a wave of violence and killings in the Valley, the nation was facing a serious situation in Kashmir.

CAST YOUR VOTE
Is the govt right in asking ULFA to renounce violence before talking with the organisation?

FORUM
EDUCATION
JOBS & CAREERS
HEALTH & FITNESS
SCIENCE & TECHNOLOGY
SPORTS
SOCIETY
TRIBUNE CLASSIFIEDS
BRIDES WANTED
GROOMS WANTED
OTHERS
HOW TO PLACE ADVTS
Sports page: India on verge of crushing victory

Sachin Tendulkar raises his bat and helmet after completing his double century against Bangladesh, as wicketkeeper Khaled Mashud looks on, during the third day of the first Test in Dhaka on Sunday. Sachin went on to score 248 not out, his best ever in Test cricket.
— Reuters photo
PPS officers removed from cadre posts
Chandigarh, December 12
Just one day prior to the hearing of the contempt case in the controversy over continuation of Punjab Police Service (PPS) officers on cadre posts meant for IPS officers, including SSPs, the Punjab Government today removed all PPS officers from the posts of district police chiefs.
THE TRIBUNE MAGAZINES
On Sundays

On Saturdays

Pak players hurt in bus accident
Ludhiana, December 12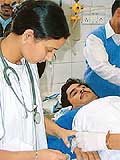 Six badminton players of Pakistan Punjab suffered minor injuries when the bus in which they were travelling along with eight others in a cavalcade met with an accident near Hotel Amaltas on the Ludhiana-Jalandhar highway today morning.

A doctor attends on Pakistani player Azhar Javed at the DMC Hospital in Ludhiana on Sunday. — Tribune photo by Inderjeet Verma


Sports page: Equal honours on rogues list too

Border talks with China yield little
New Delhi, December 12
The four rounds of Special Representatives-level talks so far on the boundary dispute between India and China do not appear to have had a breakthrough or a headstart the way the bilateral trade between the two countries has had.
USA blocking third term for IAEA chief
Washington, December 12
Irked by International Atomic Energy Agency chief Mohamed ElBaradei's "soft" position on Tehran's nuclear programme, the USA is scrutinising the transcripts of dozens of his telephone talks with Iranian diplomats, in search of ammunition to prevent him from getting a third term in the post, US officials were today quoted as saying.
Baba Amte threatens fast
Nagpur, December 12
Alleging "step-motherly" treatment to his 'Anandvan Ashram', an abode for the leprosy patients in Chandrapur district, social worker Baba Amte said he would go on a 'fast-unto-death' over the issue.

Blunkett reveals his affair
London, December 12
British Home Secretary David Blunkett has for the first time admitted his relationship with a married woman, revealing how his personal relations were affected by the affair.
Ensure gender justice, CJI tells courts
December 12, 2004

ULFA says no to PM's peace offer
December 11, 2004

India cautions USA on arms for Pak
December 10, 2004

Kalam visits Kargil
December 9, 2004
Naga leaders meet PM
December 8, 2004
Terror strikes Saudi Arabia
December 7, 2004
Indo-Pak Punjab Games begin in riot of colour
December 6, 2004
Putin wants UN seat with veto power for India
December 5, 2004
India, Russia come closer
December 4, 2004
Elahi promises to protect gurdwaras in Pakistan
December 3, 2004
Vajpayee, Advani court arrest
December 2, 2004