FORUM
Q: Does people-to-people contact between India and Pakistan help the peace process?
This is the first instalment of readersí response

Processes donít bring peace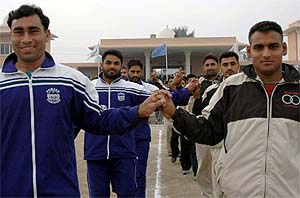 Kabbadi players from both sides hold hands as they enter the stadium during the India-Pakistan Punjab Games in Patiala. ó A Tribune photograph
It is interesting that you have used the term "peace process" in your question. Somehow, I always fail to comprehend how peace can be achieved through a process laid out by people whom we better know as "politicians". I struggle to dig up even one instance in history where peace was attained through "roadmaps" and "processes". I know a large number of Pakistanis here in Melbourne and we get along very well and thatís because we have no processes laid out by politicians that we should adhere to and we think of each other as respectable "citizens" and not "people". Thereís much more that needs to be to reach peace between India and Pakistan than organising an athletics meet and a few common forums, which only serve the purpose of the leaders. Itís not "increased contact" that we need between the citizens of both nations, itís "free contact" which we need.
SANAM SHARMA, Melbourne, Australia.
Pakistan is not an outsider
Pakistan is not an outside country; itís a part of India. Before Independence, India was one nation, but due to some corrupt politician and unfavourable circumstances, she had to give birth to new nation, which we call Pakistan. It was for the safety of the people and saving the nation from the threat from outside. With the passage of time, the gulf between the two countries widened and both now play foul with each other. Sadly, in this process, the people got separated. At present, both governments are trying hard to connect the people with each other. If these efforts were sincere, the result would no doubt be fruitful. The World Punjabi Conference, India-Pakistan Punjab Games, cultural exchange programmes, friendship cricket series etc. are the indeed steps in the right direction to bring the people of both countries together. In the end, they are not only better aware of each otherís culture, but also learn that itís the same culture that they share. This realisation will germinate the seeds of love and affection and put balm on the wounds. If two countries start working together, in no time they would become the worldís strongest nations. Togetherness has its own rewards.
PREETI KIRAN, Panchkula
Good, but insufficient
People-to-people contact between India and Pakistan is an excellent way of boosting the peace process. Interaction with the neighbour will surely reduce the threat from terrorism. However, it is still not sufficient to prevent the two countries from going to war on the Kashmir issue. To create lasting peace between India and Pakistan, the Kashmir issue will have to be solved first, and this is not in the hands of the citizens of the two countries. It is in the hands of their respective governments. Thereís nothing that a citizen can do if the governments close all the channels of communication. Only a perfect solution for the Kashmir issue and total understanding between the two governments can bring peace.
ROHIT SHARMA, Amritsar
Take leaders out; let people in
Everybody in India and Pakistan, apart from the powers that be, wants peace between the separated brothers. More than half a decade of separation has seen them lose a lot. They know that their real enemies are hunger, disease, illiteracy, and poverty. Although both governments have done a lot for peace, yet results are eluding. There has not been much change in the terms of dialogue. It seems both India and Pakistan have been caught in a time warp. Many issues being discussed now have been under discussion since 1989. The best hope for improvement in India-Pakistan relations lay in encouraging people-to-people contact. The military rulers of Pakistan cannot be trusted, as they always have vested interests in non-settlement. Who in the Pakistan polity will spend 60 to 70 per cent of budget on the Army if the bogey of India collapses? Do not place much faith in any talks; the military lobby in Pakistan will give in only if people-to-people relationship improves. The absence of contact has been the single greatest barrier before peace, so far. If professionals, students, teachers, journalists, sportsmen, actors and doctors from both sides were allowed to meet as friends, it would go a long way in countering the distressing stereotypes that we seem to have of each other. In the past, if the people moved one step closer, the governments moved two steps back. Let us begin anew by relaxing the visa regime and opening borders for tourism. A little girl called Noor perhaps made the greatest contribution to bilateral relations. Let the not end the process with the India-Pakistan Punjab Games.
SURESH KHOSLA, Chandigarh.
Needed a definite plan of action
To help the peace process, people to people contact is necessary, but not sufficient. We need to undertake a concrete plan of action to settle the Kashmir issue permanently. The Hindu-Muslim relations within India also require to be strengthened, which are polluted mainly due to the Ayodhya dispute. India should take a stand to close this issue once and for all by raising a world university for peace and spirituality at the site. This step will be a good diplomatic move to bring peace with India on Pakistanís agenda. The Gita says: "Words that neither hurt nor provoke, truthfully to benefit others are spoken, or in the process of self study pronounced, O Arjun, to penance of speech amount." This means meditative communion with oneís own true self and uttering words that cause no agitation are called the austerity of speech.
PROF M. M. GOEL, Kurukshetra
Contact will give us strength
Indians and Pakistanis are committed to peaceful resolution of all conflicts between them. Both countries are moving slowly, but surely in the direction of peace. It is time for the emotional reunion of the people of both sides who were separated way back. Our sentiments have remained unchanged. A greater interaction between the people of India and Pakistan will give them greater strength to work towards peace. The decision to introduce bus service between Muzaffarabad and Srinagar is a welcome gesture and it will join the isolated communities with the real world.
SANJEEV SHARMA, New Delhi
Buses cut, guns widen distance
"Love thy neighbour" is what we have always been taught. However, Pakistan and India are more than just neighbours, they are members of the same family, estranged for some reason. The two share a common history, culture and language. After 57 years of Partition, it is now time to heal the wounds. We have experienced hostility culminating in the India-Pakistan wars. Wars are no solution. People-to-people contact might just be. Cricket and Punjab Games have proved that a cordial atmosphere can restore friendship. Films like Veer Zaara depicting the goodness of people of each country can go a long way in restoring peace. The bus service between India and Pakistan can facilitate good exchange and encourage friendly relations.
VEENA SINGH, Chandigarh
Have meaningful exchanges
It is not a problem between just two countries. We have lived together for a thousand years and interacted as one through the Bhakti Movement, but hostilities did not die. Even after Partition, differences exist between the Muslims and non-Muslims. We are unable to establish cultural contact with our own 20 crore Muslims, but talk of good relation with Pakistan. It is natural for a Hindu/Sikh staying in Pakistan to sympathise with India and for a Muslim living in India to sympathise with Pakistan. Any hurdle put across by religion is not easy to jump. Till the clergy continue to spit venom, conflicts will continue.
RAMESH CHANDRA ANAND, On e-mail
Governments have been disappointing
Contact is always good, even though it may not seem to help much. Peace can come only this way. When people on both sides meet each other, they understand the views of the other better, and then they can share it with others. Without any exchange of ideas and dialogue, the horses of peace canít move an inch further. For over 50 years, government-to-government contact has not shown any real sign of boosting the peace process. Now after 50 years, this is the moral duty of both governments to leave the decision to the people.
Dr SATWANT SINGH SAHIB, Ludhiana.
CBMs apart, Kashmir is central
All confidence-building measures (which include people-to-people contact) are positive steps towards peace. Over the last one year, one has seen a definite change in the attitude of the people of India and Pakistan. There is less hatred and mistrust. Cricket and hockey matches between the two countries are no longer like war. The Pakistani media has toned down its anti-India propaganda. The common man on both sides genuinely wants peace and harmony, all thanks to the CBMs. However the real peace is possible only if there is a sincere political will on both sides. Pakistan should find its own identity and no longer depend upon the anti-India sentiment for its survival. Its leadership should not rake up the Kashmir issue at each forum just for playing to the galleries. Pakistan should grow as a nation minus India and India should sincerely try to settle the Kashmir issue through even tripartite talks, if necessary. People-to-people contact should continue, however difficult is the situation.
MADHU R. D. SINGH, Ambala Cantonment
Only men of power can give us peace
The resumption of the people-to-people contact between India and Pakistan will only increase the endearment between the masses on both sides and that can only be a win-win situation, but I still doubt if it will help the peace process. If the people who carry a lot of clout start believing in action and stop beating about the bush, only then can the completion of the peace process be achieved. The masses can just stay together and pray for peace.
DEEPAK VASHISHT, On e-mail
Good in the long run
Had the people-to-people contact been established earlier, the number of armed conflicts between the two countries might have been less. It may not seem to have a direct impact upon the political situation, but it will certainly be effective in the long run. It will force the politicians to respect the will of their voters and tone down their rhetoric during negotiations and look sincere to resolve the long-standing bilatral issues. It will remove the curtain put between the masses and show them the man on the other side is not their enemy, as is evident from the reaction of recent visitors from Pakistan. They have realised to their surprise that people on this side of the border are not baying for their blood, as they were made to believe.
LT COL BHAGWANT SINGH, Mohali
Our roots bind us together
The People to people contacts between India and Pakistan will definitely help in bringing peace because both the nations have a common culture and they share bonds that are not easily broken. If both countries agree to relax visa norms for direct contact, the day is not far when both shall live peacefully. The steps like the World Punjabi Conference and India-Pakistan Punjab Games are the right steps.
ANIL KUMAR, Sunam
Hamid is smiling
Hamid is oozing with happiness .He has a Hindustani guest for dinner and the friendship cricket series is underway. The air is scented with the fragrance of friendship. What seemed a distant dream is now a reality. Even if this is a bubble, let the dream sustain. People-to-people contacts are a tempting preposition, but common man has never been concerned about whatís happening on the other side of the border. No doubt our culture and language are almost identical, but there is this element of curiosity that keeps us in this love-hate relationship with the neighbour. I am not a pessimist, but I feel concerned when people draw daggers every time there is a little sign of tension on the border. We will have to rise above cheap politics for Hamid and Mohan to smile together.
PRITISH NARULA, On e-mail
This warmth will soon vanish
The present warmth in relations is just a small relief after more than 50 long years for the people to visit their ancestral houses and relations abandoned during Partition. The hindrance comes from persons who are at the helm of affairs, especially in Pakistan, because they do not want to loose their power by restoring peace. The United States of America and its allies would never want peace in India because of their future anxieties. These countries are rather bent upon creating disturbance here by supplying arms to Pakistan. There are no bilateral ties, but opportunities to befool. Friendship with Pakistan is a US compulsion, and with India, itís eyewash.
THAKUR KAMAL RAJ SINGH, Patiala
Peace needs a foreign hand
India-Pakistan peace initiatives need to be supported, not only in India and Pakistan, but also in the United States of America, the United Kingdom, Canada and Australia, where a bulk of the immigrants from the two countries have already come together to form India-Pakistan associations. Ever since Prime Minister Dr Manmohan Singh met the Indian-Americans in New York to begin his peace initiative with Pakistan President General Pervez Musharraf, these bodies have promised to promote peace in their adopted countries. Even the ISI is thinking on new lines, all due to the US efforts, whose Middle East policy allowed such interaction between our two nations. The recent India-Pakistan Punjab Games will now be taken America for Baisakhi 2005 where the CMs of both Punjabs will get together once again. Pravasi Divas in Mumbai will be a platform to highlight this new friendship agenda.
SUNNY SIDHU, On e-mail
Where living standards differ, peace is far
No, people-to-people contact between India and Pakistan will not help the peace process because there is a wide gap between their ideologies. The Muslims in Pakistan are more fundamentalist and rigid on the Kashmir issue. They believe in acquiring Kashmir by force. Moreover, there are disparities in the income and literacy standards of the two countries. Such divide doesnít bring peace closer. After Independence, the people of both countries have developed intense hatred for each other and any step to establish any contact with the other would have a negative impact. The peace process should better remain in the hands of diplomats.
SANJAY CHAWLA, On e-mail