PUNJAB
HARYANA
JAMMU & KASHMIR
HIMACHAL
REGIONAL BRIEFS
NATION
OPINIONS
MAILBAG
BUSINESS
SPORTS
WORLD
Thursday, December 23, 2004, Chandigarh, India
Updated at 3:00 am (IST)
BREAKING NEWS
Former PM Narasimha Rao passes away
New Delhi, Dec 23
Former Prime Minister P. V. Narasimha Rao, the first politician from outside the Nehru-Gandhi family to head a government at the Centre for a full five-year term, died today after a bout of serious illness over the past fortnight.
Zaheera was paid Rs 18 lakh by BJP MLA: Tehelka
New Delhi, December 22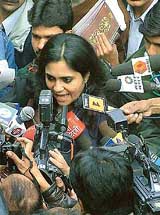 In a seemingly convincing undercover operation, the Tehelka today showed a spycam footage before mediapersons to claim that the Best Bakery prime witness Zaheera Sheikh was paid Rs 18 lakh by a BJP MLA Madhu Shrivastva to turn hostile.


In video (56k)

Ms Teesta Setalvad, a social activist, is surrounded by media persons after the Tehelka newspaper press conference at Press Club in New Delhi on Wednesday. — Tribune photo by Rajeev Tyagi

CAST YOUR VOTE
Will upgrading 750 posts of Lieutenant-Colonels to Colonels help improve the Army's efficiency?

FORUM
EDUCATION
JOBS & CAREERS
HEALTH & FITNESS
SCIENCE & TECHNOLOGY
SPORTS
SOCIETY
TRIBUNE CLASSIFIEDS
BRIDES WANTED
GROOMS WANTED
OTHERS
HOW TO PLACE ADVTS
Zaheera denies taking money

Laloo demands Advani's resignation
SC should take note of Tehelka expose: Cong

Kalam calls for second Green Revolution
Asks students to imbibe entrepreneurship
Palampur, December 22

The President, Dr A. P. J. Abdul Kalam, today played teacher to students of CSK Himachal Pradesh Agricultural University.

The President, Dr A.P.J. Abdul Kalam, interacts with children at Sarog village near Theog in Himachal Pradesh on Wednesday. — Photo by Anil Dayal

THE TRIBUNE MAGAZINES
On Sundays

On Saturdays

Villagers overwhelmed by Kalam's visit
'Intranet scam' rocks Parliament
New Delhi, December 22
Amidst protests from the Congress members, the Shiromani Akali Dal and BJP members today raised the alleged "intranet scam" involving Punjab Chief Minister Amarinder Singh's son in both Houses of Parliament.
Get ready for power cuts
Chandigarh, December 22
Electricity consumers, beware! Power cuts and blackouts are on the anvil in Punjab. Though the PSEB is out in the market to buy power to meet its growing requirements, yet it is still not able to satiate the demand of all its consumers — rural sector, industry, trade and above all domestic consumers.
PGI to have cancer research centre
New Delhi, December 22
The PGIMER, Chandigarh, will soon have a regional cancer research centre, with world-class facilities for cancer research and treatment.


Migratory birds under threat
Srinagar, December 22
"Take nothing but photographs. Leave nothing but footprints. Kill nothing but time". This message inscribed at the entry to Hokersar Wetlands, 10 km north of here, conveys volumes about the presence of the priceless natural treasure of migratory birds that throng the water reserve mainly during winter months.


Please do not disturb: A flock of migratory birds flies away at the drop of even a leaf over the waters of Hokersar Wetland, which has an area of 14 sq km about 12 km north of Srinagar, which has been attracting lakhs of birds from colder region during winter months.
— Tribune photo by Amin War.
PM rules out redrawing of boundaries
December 22, 2004

FIR against Laloo for code violation
December 21, 2004

PM, Patel to stay away from planes' purchase
December 20, 2004

EC objects to creation of Haryana dist
December 19, 2004

Haryana goes to polls on Feb 3
December 18, 2004

Angry Speaker offers to quit
December 17, 2004

Laloo's absence sparks din
December 16, 2004

37 die as trains collide near Mukerian
December 15, 2004

Revenue may fall
December 14, 2004

Hurriyat leaders ready to adjust
December 13, 2004

Ensure gender justice, CJI tells courts
December 12, 2004