PUNJAB

HARYANA

JAMMU & KASHMIR

HIMACHAL

REGIONAL BRIEFS

NATION

OPINIONS

MAILBAG

BUSINESS

SPORTS

WORLD
Sunday, March 20, 2005, Chandigarh, India
Updated at 3:00 am (IST)
PM criticises USA for visa denial
New Delhi, March 19
Taking strong exception to the decision of the USA to deny visa to Gujarat Chief Minister Narendra Modi, Prime Minister Manmohan Singh today said it was not "appropriate" to use allegations to make a "subjective judgement" to question a constitutional authority of India.

USA assessing India's request
World page:


Modi visa denial based on NHRC findings: USA
Nation page:


Modi to address NY meeting via satellite


Visa denial a discourtesy, says BJP
Chandigarh page:


Denial of visa to Modi "unfortunate"


In video: (28k, 56k)


CAST YOUR VOTE
Is the US right in denying diplomatic visa to Narendra Modi?



FORUM

EDUCATION

JOBS & CAREERS

HEALTH & FITNESS

SCIENCE & TECHNOLOGY

SPORTS

SOCIETY

TRIBUNE CLASSIFIEDS

BRIDES WANTED

GROOMS WANTED

OTHERS

HOW TO PLACE ADVTS
President's rule in Bihar approved amid walkout by RJD
New Delhi, March 19
The Lok Sabha today approved the presidential proclamation clamping Central rule in Bihar on March 7, amidst a walkout by members of the RJD, a key UPA ally, and senior regional leaders taking the opportunity to woo one another to break the impasse over government formation in the state.

No move to change law on Governor's role


Nation page: Somnath to meet Speakers today


Perspective: Systemic reforms needed to rejuvenate the judiciary

BJP-ruled states not to implement VAT
New Delhi, March 19
The BJP-ruled states today decided to oppose the introduction of Value Added Tax from April 1 on the plea that "piecemeal" implementation of the tax was "undesirable".


In video: (28k, 56k)
| | |
| --- | --- |
| | |
| | |
| | |
| | HIMACHAL: 6 killed, 20 hurt in bus mishap |
| | |
| | CHANDIGARH: UT move to recover rent arrears of ministers' houses |
| | LUDHIANA: HC reinstates sarpanch after 21 months |
| | OPINIONS: Priority to improve health care in rural areas: Ramadoss |
| | BUSINESS: G-20 sets deadline for removal of export subsidies |
| | NATION: Somnath to meet Speakers today |
| | |
| | SPORTS: Mr Dependable at his best |
Full coverage: India vs Pak

2005
QUOTE OF THE DAY
My government has been there for only one year. But if tigers have been disappearing it must be taking place for a longer period. CBI inquiry will only bring out the truth.
— Vasundhara Raje
THE TRIBUNE MAGAZINES
On Sundays

On Saturdays

Colleges to be disaffiliated from Devi Lal University
Chandigarh, March 19
In a move which will endear it to a vast section of college students in Haryana, the Bhupinder Singh Hooda-led government has decided to disaffiliate colleges from Ch. Devi Lal University at Sirsa.


Pakistan test-fires Shaheen II
Pakistan's medium-range nuclear-capable ballistic missile Shaheen II takes off from an undisclosed location in this March 9, 2004 file photo. On March 19, 2005, Pakistan successfully test-fired its long-range nuclear-capable ballistic missile, which could travel up to 2,000 km (1,250 miles) and carry all kinds of warheads, a military official said. — Reuters
Indian envoy in Nepal briefs Natwar
New Delhi, March 19
There is not much change in the political situation in Nepal and King Gyanendra does not seem to be in a hurry to blink first vis-a-vis the political parties and Maoists. This is the sense which Indian Ambassador in Nepal, Mr Shiv Shanker Mukherjee, is understood to have conveyed to External Affairs Minister this evening.


Opinions page: Power eludes Maoists in Nepal


In video: (28k, 56k)
Test poised for exciting finish
Kolkata, March 19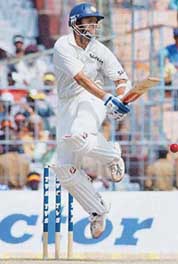 The second cricket Test between arch-rivals India and Pakistan was poised on a razor's edge as Shahid Afridi cracked a blistering half century to provide a blazing start for the visiting team's chase of a mammoth 422 to win. Chasing an improbable target after India had declared their second innings at 407 for nine, Pakistan swung the momentum a bit in their favour.

Rahul Dravid in acrobatic action during the fourth day's play of the second Test match between India and Pakistan at Eden Gardens in Kolkata on Saturday. — PTI photo



Mr Dependable at his best
(and more on Sports page)

USA denies visa to Modi
March 19, 2005

FM hints at rollback of tax on cash withdrawal
March 18, 2005

US refuses to stop F-16 sale to Pak
March 17, 2005
Munda wins trust vote
March 16, 2005
Speaker adamant, but in a fix
March 15, 2005
UPA to contest Jharkhand Speaker's post
March 14, 2005
Munda, 5 others
sworn in
March 13, 2005
Soren quits, Munda made CM
March 12, 2005
Speaker to seek Kalam's view on SC order
March 11, 2005
Jharkhand floor test on March 11
March 10, 2005
Bihar's turf war shifts to Union Cabinet
March 9, 2005