PUNJAB

HARYANA

JAMMU & KASHMIR

HIMACHAL

REGIONAL BRIEFS

NATION

OPINIONS

MAILBAG

BUSINESS

SPORTS

WORLD
Saturday, April 30, 2005, Chandigarh, India
Updated at 3:00 am (IST)

BREAKING NEWS (updated at 4.30 pm, IST)


King Gyanendra lifts emergency


India welcomes Nepal King's move, wants more
---
India, Japan to usher in new Asian era
New Delhi, April 29
India and Japan today took their relationship to a higher pedestal as they decided to hold annual Prime Minister-level meetings, initiate a high-level strategic dialogue, close ranks in fighting global terrorism, launch an oil and natural gas cooperation and work closely on all international platforms aimed at bringing in a new Asian era.



Delhi page: Delhi Metro a symbol of Indo-Japanese
cooperation: Koizumi


Delhi students give Koizumi Japanese-style welcome
In video (28k, 56k)

Japanese Prime Minister Junichiro Koizumi with Dr Manmohan Singh just before a meeting at Hyderabad House in New Delhi on Friday. — Tribune photo by Mukesh Aggarwal
CAST YOUR VOTE
Should India accept UN Security Council membership even without veto?



FORUM

EDUCATION

JOBS & CAREERS

HEALTH & FITNESS

SCIENCE & TECHNOLOGY

SPORTS

SOCIETY

TRIBUNE CLASSIFIEDS

BRIDES WANTED

GROOMS WANTED

OTHERS

HOW TO PLACE ADVTS
A divided NDA meets on Monday
Parliament boycott issue
New Delhi, April 29
Faced with division within, the NDA has decided to call a meeting of NDA MPs on Monday morning to decide on whether or not to boycott Parliament further.
Sonia pulls up party MPs
New Delhi, April 29
Congress MPs have been pulled up by party President Sonia Gandhi for absenting themselves from Parliament. Taking strong exception to the lack of quorum in Parliament, she has conveyed her displeasure to the Parliamentary Affairs Ministers and party whips and asked them to ensure that members and ministers devote sufficient time to Parliament.
| | |
| --- | --- |
| | PUNJAB: XEN involved in 'power theft' |
| | HARYANA: Load disclosure scheme from May 1 |
| | HIMACHAL: 128 schools to be closed from today |
| | DELHI: Uphill task for CM to get Sonia Vihar water plant operational |
| | |
| | CHANDIGARH: Bansal receives letter threatening to kill him |
| | |
| | OPINIONS: The veto power |
| | |
| | |
| | |
| | |
QUOTE OF THE DAY
I feel much more popular here than in Japan. I hope that in the future, children will play an important role in strengthening our friendship by acting as a bridge between India and Japan.
— Junichiro Koizumi

THE TRIBUNE MAGAZINES
On Sundays

On Saturdays

India may reject World Bank panel on Baglihar
New Delhi, April 29
India has the option to reject two times the names of neutral experts suggested by the World Bank on the Baglihar dam controversy and it looks reasonably certain that India will exercise this right given under the Indus Water Treaty.
Karunakaran to quit Rajya Sabha
Thiruvananthapuram, April 29
Preparing for a possible break with the Congress, senior leader from Kerala K. Karunakaran today said he has decided to quit his Rajya Sabha seat which he won as the party candidate a year ago.

In video (28k, 56k)



Congress keeps watch on Kerala
Govt ratifies EPF interest rate
New Delhi, April 29
The Finance Minister today ratified the 9.5 per cent rate of interest on the Employees Provident Fund accumulations for 2002-03 and 2003-04.

In video (28k, 56k)

No birth certificate for Haryana school admission
Chandigarh, April 29
The Haryana Government today decided to dispense with the condition of producing a birth certificate at the time of seeking admission in government primary schools of the state.


Pollution still stalks Taj: report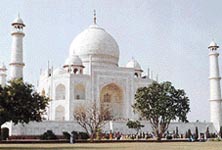 New Delhi, April 29
Petroleum Ministry's 10-point programme, which includes supply of the LPG to all households and industrial units within the Taj Trapezium Area, has failed to save the national monument from pollution.
In Sports Tribune today
NDA leaders meet Kalam, seek Lalu's ouster
April 29, 2005

Military aid in doldrums as Nepal arrests Deuba
April 28, 2005

21 states agree on uniform VAT rates
April 27, 2005

Laloo charge-sheeted
April 26, 2005

Manmohan calls for restructuring of UN
April 25, 2005

Military aid for Nepal
April 24, 2005

PM meets King today
April 23, 2005

17 killed as trains collide in Gujarat
April 22, 2005

Phukan report to be tabled in House
April 21, 2005

Parivar in trouble
April 20, 2005