PUNJAB

HARYANA

JAMMU & KASHMIR

HIMACHAL

REGIONAL BRIEFS

NATION

OPINIONS

MAILBAG

BUSINESS

SPORTS

WORLD
Monday, July 4, 2005, Chandigarh, India
Updated at 3:00 am (IST)
Thackeray sacks Rane
Set to join NCP with a number of MLAs


Mumbai, July 3
Former Shiv Sena leader Narayan Rane, who resigned as the Leader of the Opposition in the Maharashtra Assembly yesterday, is all set to join the Nationalist Congress Party (NCP) along with a number of party MLAs. Of the 63 MLAs of the Shiv Sena, more than 12 are reportedly in touch with him.



In video (28k, 56k)


In video: Thackery betrayed over Rane's decision. (28k, 56k)

CAST YOUR VOTE
Should India stick to the no-first-use nuclear doctrine?



FORUM

EDUCATION

JOBS & CAREERS

HEALTH & FITNESS

SCIENCE & TECHNOLOGY

SPORTS

SOCIETY

TRIBUNE CLASSIFIEDS

BRIDES WANTED

GROOMS WANTED

OTHERS

HOW TO PLACE ADVTS
QUOTE OF THE DAY
The UPA government is the weakest ever at the Centre as it has been taken hostage by Left parties. The government's fragility and tussle between the Congress and the Communists have left people disillusioned.
— Arun Jaitley

Rain fury abates in Gujarat, toll rises to 135
Ahmedabad, July 3
Life in Gujarat is limping back to normal with the rains abating for the past twelve hours after lashing the state for almost a week and leaving 135 dead.


In video: Gujrat zoo swept away by floods. (28k, 56k)


4 children among 15 of family killed in accident
Goraya (Jalandhar), July 3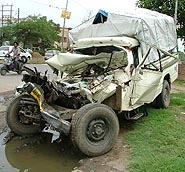 Fifteen persons belonging to a family of Mukandpur village near Dehlon were killed and five children of the same family were seriously injured when a Trax jeep they were travelling in, rammed into the rear of a truck, allegedly parked negligently on the G.T. Road near Chachrari village, 2 km from here, this morning.


In video (28k, 56k)
The mangled remains of the jeep in which the victims were travelling. — Photo by Inderjeet Verma



Punjab page: What did I do to deserve this, wonders Ajaib Singh


Ludhiana page: They lived together, died together



| | |
| --- | --- |
| | |
| | |
| | HIMACHAL: Power panel introduces new tariff order |
| | |
| | |
| | CHANDIGARH: Rain no restraint; 53 pc polling to parishad wards |
| | LUDHIANA: They lived together, died together |
| | OPINIONS: Nettled Nixon |
| | BUSINESS: CERC threatens to cancel licences of Tata, Reliance |
| | NATION: GAIL launches anti-malaria nets |
| | WORLD: Manmohan Singh, G-8 leaders to discuss issues like climate change |
| | SPORTS: Roger Federer does it again |
In Forum today



THE TRIBUNE MAGAZINES
On Sundays

On Saturdays

Minister escapes bid on life; 10 killed in J&K
Srinagar, July 3
Militants made an attempt on the life of J & K Rural Development Minister Peerzada Mohammad Sayeed when an IED went off, damaging a vehicle and injuring five police personnel near Sopore in Baramula district today.
Sudheendra Kulkarni resigns



Nation page: Ideology first, individual last: RSS
to tell BJP
Taliban regrouping, says Afghan minister
New Delhi, July 3
The visiting Afghan Foreign Minister, Dr Abdullah Abdullah, today painted a gloomy picture of the security situation in his country and told India that the Taliban was regrouping in a big way.



Natwar leaves for summit in Kazakhstan today


PM favours no-first-use N-doctrine
July 3, 2005

Gujarat flood kills 94; 500 cr aid announced
July 2, 2005

Houses can be sold floor-wise
July 1, 2005

India, US sign 10-yr defence agreement
June 30, 2005

Terror in Pak, PoK still exists: Pranab
June 29, 2005

Hindustan-Tibet road washed away at several places
June 28, 2005

Left's jolt to UPA
June 27, 2005
Digvijay gets charge of poll-bound Bihar
June 26, 2005
Nine jawans killed, 19 hurt in Srinagar blast
June 25, 2005
Punjab reels under power cuts
June 24, 2005
APHC seeks dialogue with Centre
June 23, 2005