PUNJAB

HARYANA

JAMMU & KASHMIR

HIMACHAL

REGIONAL BRIEFS

NATION

OPINIONS

MAILBAG

BUSINESS

SPORTS

WORLD


Tuesday, July 26, 2005, Chandigarh, India
Updated at 3:00 am (IST)
DSP among hundreds hurt
Agitating workers cane-charged in Gurgaon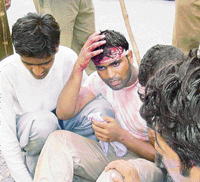 Gurgaon, July 25
A procession of workers of Honda Scooters and Motorcycle Ltd, based at Manesar, near here, today went berserk setting on fire the Gypsy of the Subdivisional Magistrate (SDM) and critically injuring the DSP, (Headquarters), near the ITI chowk.
One of those injured sits with a bandaged head after violent workers were lathi-charged in Gurgaon on Monday.


PM anguished, Hooda orders probe


Gurgaon lathi-charge to be raised in Parliament

CAST YOUR VOTE
Should non-functioning government commissions be disbanded?



FORUM

EDUCATION

JOBS & CAREERS

HEALTH & FITNESS

SCIENCE & TECHNOLOGY

SPORTS

SOCIETY

TRIBUNE CLASSIFIEDS

BRIDES WANTED

GROOMS WANTED

OTHERS

HOW TO PLACE ADVTS
More autonomy for PSUs

Can now decide on mergers, acquisitions
New Delhi, July 25
In a significant decision, the Union Cabinet today granted more autonomy to the boards of profit making central public sector enterprises (CPSEs) allowing the management of these companies to take a host of decisions independently, including mergers, acquisitions, appointments and foreign travel of executives.

Prime Minister Manmohan Singh waves to photographers as he arrives for the opening of the monsoon session of Parliament in New Delhi on Monday. — Tribune photo by Mukesh Aggarwal

Business page:


VSNL set to acquire Bermuda-based Teleglobe


SBI keen on acquisitions abroad


Nod to public-pvt funding in infrastructure
In Education Tribune today
FORUM
Our feature, Forum, provides our readers with an opportunity to express their views on some of the vital issues facing the country. The new question being posed is:
What steps should be taken to curb the growth of population?
Readers are invited to send their letters, not more than 150 words, to:
The Editor-in-Chief, The Tribune, Sector 29-C, Chandigarh, with 'Forum' superscribed on the envelope. The answers can also be e-mailed to:
[email protected]
H.K. Dua, Editor-in-Chief

THE TRIBUNE MAGAZINES
On Sundays

On Saturdays


Egypt hunts for 9 Pakistanis
Sharm el-Sheikh (Egypt), July 25
The Egyptian police hunting for bombers in the Sinai peninsula on Monday distributed photographs of some 50 foreigners, including Pakistanis, who may be connected with attacks that killed at least 64 persons.

Opinions page: Tourists rush to get out of Egypt


World page: Manhunt on to catch London bombers
Vidya Stokes loyalist is HP Cong chief
New Delhi, July 25
Himachal Pradesh Chief Minister Virbhadra Singh today lost out to his party rivals as their candidate, former MLA Viplove Thakur, was named the new HPPCC President.

SC notice to Centre, Bihar Governor on dissolution of Assembly
New Delhi, July 25
Taking note of the allegations of "mala fide" in the midnight dissolution of the Bihar Assembly, the Supreme Court today issued notices to the Centre and the Bihar Governor seeking their replies within three weeks.

Special article: Elections in Bihar


Nation page: President's Rule extended in Bihar
3 held for siphoning off wheat meant for children
Jalandhar, July 25
The district police has arrested three persons for allegedly siphoning off wheat grain from the stock maintained at Government Primary School, Bhargo Camp, meant for distribution among the students.
Rane to join Congress on July 28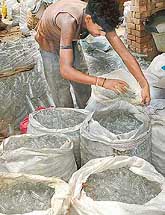 New medicines in old vials
Chandigarh, July 25
New medicine in old vials — that is exactly what so many pharmaceutical companies in the region are offering. If the patients' health is affected in the process, nobody is apparently bothered about it.

Washed injection vials being packed for further transmission in Chandigarh on Monday. — Tribune photo by Manoj Mahajan

QUOTE OF THE DAY
I have been asked by Mrs Gandhi to submit a report regarding the functioning of the party, its leaders and the government to her every fortnight.
— Shamsher Singh Dullo



E - Revolution 2005:
A Two-day IT conclave

Assembly Elections - 2005

Turbans

Chandigarh is 50

EARLIER FEATURES
Troops kill four teenagers
July 25, 2005
Terror, now in Egypt
July 24, 2005
Suspected bomber shot
July 23, 2005
Terror strikes London again
July 22, 2005
PM allays fear of Pakistan, China
July 21, 2005
US recognises India as nuclear state
July 20, 2005
Indo-US ties in for transformation
July 19, 2005
Advani to stay on both posts
July 18, 2005
India not on sale: PM
July 17, 2005
LeT hand in Ayodhya attack
July 16, 2005